Big Love Birthday Bash raises funds for Warren Village
April 1, 2013
/
/
Comments Off

on Big Love Birthday Bash raises funds for Warren Village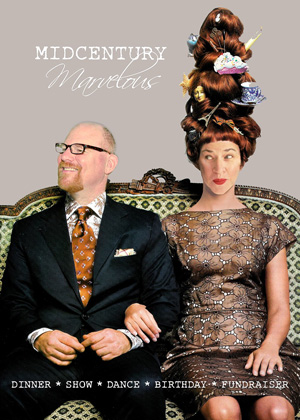 The fun and unique invitation, featuring the guest of honor and her husband, for the Warren Village fundraiser.
By Lisa Nicklanovich; photo and invitation courtesy of Julie Lamb
"The dream that I dreamed was only surpassed by the magic that happened in the room," was how Tammy Abramovitz described her 50th Big Love Birthday Bash at the Denver Botanic Gardens on March 9. The party helped Abramovitz reach half of her fundraising goal benefiting Warren Village, which helps low income, single parent families achieve sustainable personal and economic self-sufficiency.
Abramovitz, well-known in the Castle Pines community for her yearly roller-skating, fundraising birthday parties, collected "Big 50" party ideas in a folder for years. The campy, '50's theme inspired guests to arrive in vintage dresses, ruffled tuxes, and top hats. Abramovitz's guest list of 200 enjoyed an upscale TV dinner and coconut cream cake, harkening back to Abramovitz's Texas roots.
Tricia Wackerly, a guest at the party, said, "Tammy owned the stage and rocked the house. We laughed, we cried, we danced, we donated." Abramovitz performed a love song for her husband and she added, "my incredibly talented friends came up on stage and entertained us all with standup comedy, a supper show, a hilarious skit about synchronized swimming, and music all evening long."
Abramovitz said the biggest surprise of the evening were those who came up on stage and made generous donations. "I'm so grateful to all my friends who braved life and limb to get to the party in the snowstorm and were so generous with their time and their purse."
Abramovitz had the time of her life at the party, but her dedication to Warren Village is her mission. Currently chair emeritus for the board of trustees, she has served on the Warren Village board for the last eight years. She said, "I love connecting Warren Village with our special Castle Pines community. My hope is that the community will help me reach the other half of my goal this year."
To view a slideshow of the evening's events, visit www.castlepinesconnection.com and click on "Photo Album."
For more information about Warren Village, visit www.warrenvillage.org or contact Abramovitz directly by e-mail
tammydenver@yahoo.com.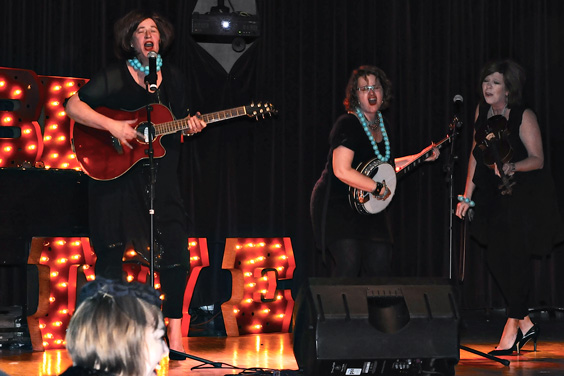 Tammy Abramovitz (left) and her friends, performing at her 50th birthday party fundraiser for Warren Village.