Buffalo Ridge kids race with the Iditarod
April 1, 2013
/
/
Comments Off

on Buffalo Ridge kids race with the Iditarod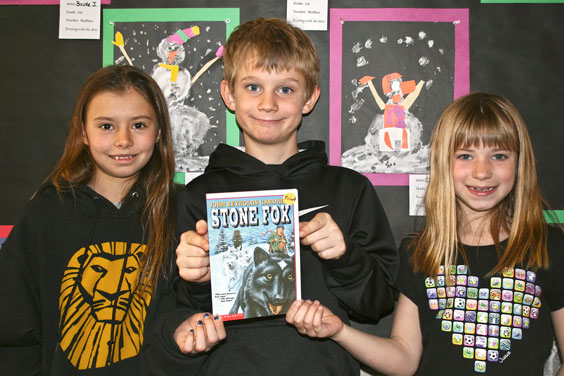 Third graders in Mrs. Kennedy's class read the book "Stone Fox" earlier this year, which was the inspiration for their Iditarod class project.

By Karlie W., BRE Ridgeline staff reporter; photo by Elean Gersack

Kayleen Kennedy's third grade class reads the book "Stone Fox," by John Reynolds Gardiner, every year. The story is about a boy who is determined to enter a dog sled race and win. This year, Kennedy decided to do a class project based on the book.
The Iditarod is Alaska's annual and historic 1,000-mile dog race from Anchorage to Nome. This year's event started on March 2 and followed the southern route because it is an odd year (even years take the northern route). More than 60 mushers and their dog sled teams took part in the Iditarod this year.
Mrs. Kennedy divided her class into small groups to gather data about the race and mushers. The students collected and graphed checkpoint times for the mushers, which encourages critical thinking. The small groups chose a format for the data, which is where communication and collaboration came into play. Working together in groups, the students used creativity to find the best way to graph data online.
Emersen M. picked musher Martin Buser to track because he has won four Iditarods. "Any money he earns he gives to schools and animals – he is a dog lover!" she added. "My favorite part was working in groups and putting in the checkpoints," said Savannah H.
The class also learned some pretty interesting facts about the dogs while learning about the Iditarod. "Lead dogs are always the smartest and the strongest and the wheel dogs (the last two before the sled) pull the sled out far enough for turns," shared Kennedy.
The students in Mrs. Kennedy's class found this project to be so much fun. One student, Hayden H., has an aunt who volunteered at this year's Iditarod. She worked at the start and finish lines, helped care for the dogs, and was at a post where hurt or injured dogs were brought.
The Iditarod came to an end with the oldest musher champion, Mitch Seavey, winning by just 24 minutes. He has been in 20 Iditarod races, and his son won the last Iditarod as the youngest champion.
To learn more about the Iditarod, visit www.iditarod.com.