Dinner and a movie? How about both at once
May 1, 2013
/
/
Comments Off

on Dinner and a movie? How about both at once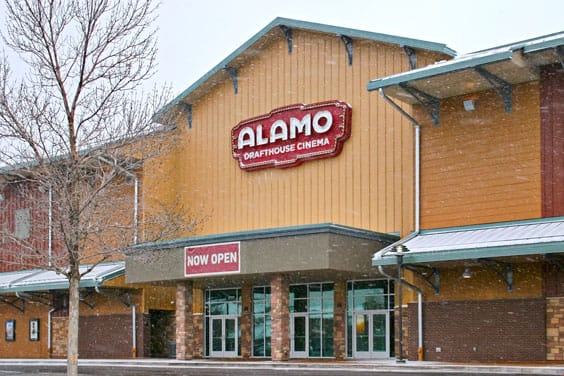 Article and photo by Kathy Dunker
Texas-based Alamo Drafthouse Cinemas recently opened its doors at a new location in Aspen Grove, off of Santa Fe. Alamo Drafthouse provides a unique combination of theatre and restaurant, showing first-run and independent films, all with a fairly extensive menu available to order from, throughout the experience.
Menu items include salads, wraps, burgers, pizza, and even fresh-baked cookies to order. Servers are readily available throughout the movie to take orders which includes a full bar as well as the Alamo's own locally-brewed ale. Service at the Alamo is very good and to enhance the cinematic atmosphere, there is a zero-tolerance policy for talking or texting during the movie.
Aspen Grove Alamo is a seven-screen theater with seating for more than 900 customers. The screen size, sound, and picture quality are all exceptional at Alamo as well as the theatre room layouts that make every seat a good viewing experience. One of the auditoriums is a "microcinema" with only 48 seats but still with a very large screen. This room is available to rent for private parties.
All seats are reserved, so once you pick your seats, they will be held for you until the movie starts. This eliminates the need to show up extra early or stand in line to ensure a good seat. The theatre recommends arriving twenty minutes before show time so you can see the menu while the lights are still up and decide on your order. Small pens and paper are available at the one-table per two-seat layout, so patrons may write down food and drink orders and place them in the order holder. This alerts the wait staff to pick up and place the order.
The pre-show entertainment is not the usual advertisements, but rather some humorous clips tailored around the feature film. Alamo Drafthouse CEO Tim League remarked, "People don't want to pay for a movie and then be bombarded with fifteen minutes of dancing candy and fountain drinks. Instead, the pre-show really adds to the overall Alamo experience where patrons can look forward to arriving early to catch it."
Aspen Grove is the first Alamo Drafthouse Cinema location in the state of Colorado, bringing the total to twelve locations. League says, "We're very excited to expand the Alamo Drafthouse to moviegoers in Colorado. We've found an area for a natural extension of our concept, which began in Austin, to a like-minded audience of serious movie and beer lovers."
For more information or for show times, visit www.drafthouse.com/denver/littleton.