January 1, 2023
/
/
Comments Off

on Cutest Pets in the Pines
Cutest Pet in the Pines – Our top 100 picks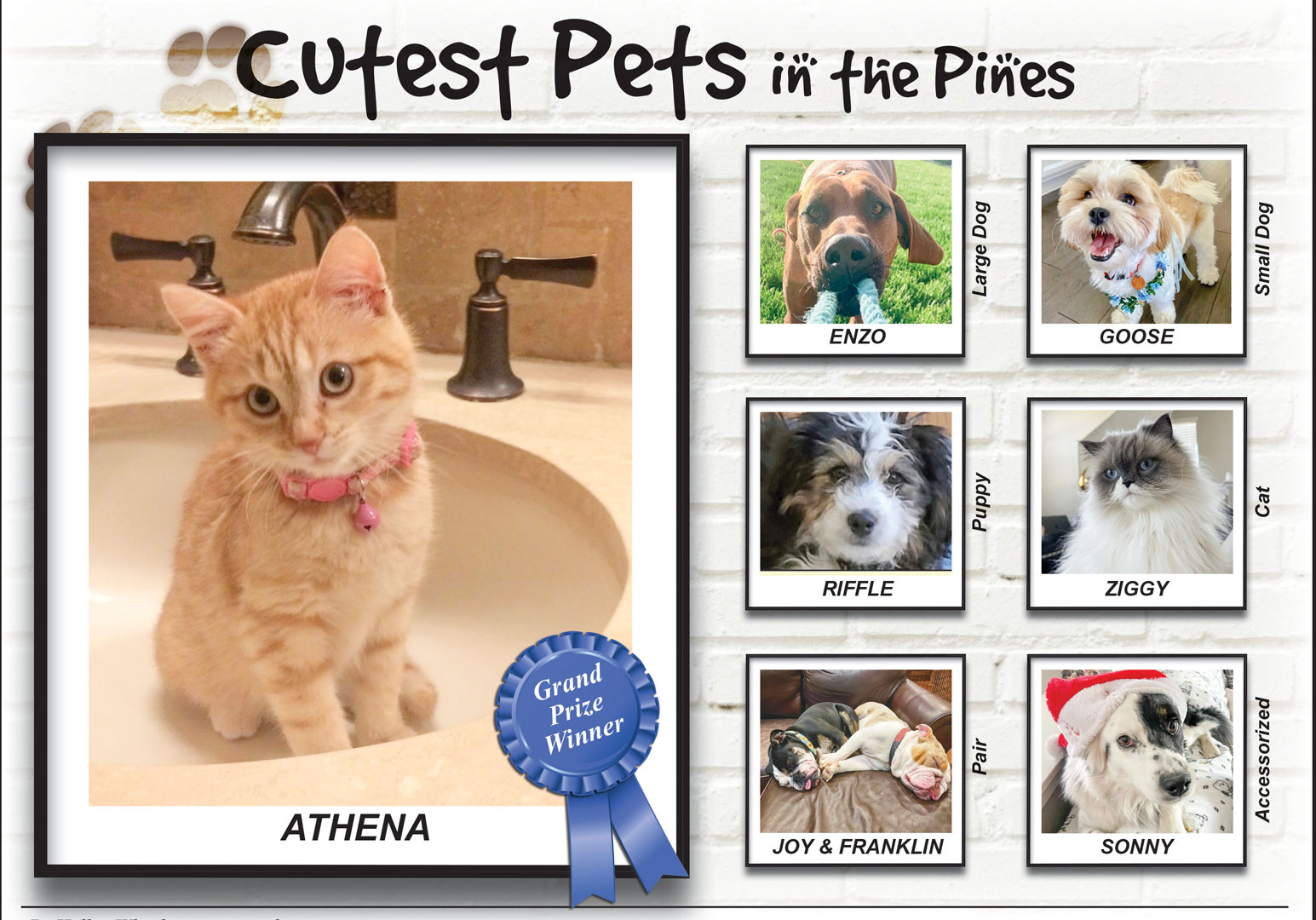 Congratulations Athena, an adorable kitten that stole the hearts of our judges and has been selected as the Cutest Pet in the Pines for 2022.
According to owner Kiersten Lockwood, Athena joined the Lockwood family at their home on Shoreham Circle shortly after Thanksgiving, and she is "as cute as ever." Athena was born on a farm, so the family is not 100% sure what breed she is, but she was the most adventurous cat in the litter, which is what drew them to her.
"Athena really likes to play with twist ties, socks and her fish taco toy. She enjoys eating spinach – yes, spinach – and her "Greenies" treats," stated Lockwood.
One of three cats in the Lockwood household, Athena acts she's the "momma cat," although she's still a kitten. "At night, she sleeps on my bed (and sometimes on me)," stated Lockwood, "and she purrs when I pet her."
Athena will receive a $100 gift certificate to The Pet Stuff Place, a basket of goodies and bragging rights for the year.
Enzo, Goose, Riffle, Ziggy, Joy & Franklin (combined) and Sonny will all receive $50 gift certificates.
Thank you to all who submitted photos of your pets. We shifted gears this year for the 10-year anniversary of the contest, and instead of having runners-up and honorable mentions, we picked winners in a variety of categories. It is always such a tough decision choosing just a few winners out of the hundreds of entries we receive. The selection process is challenging, and they are all winners in our hearts.
A portion of this year's proceeds will benefit the Denver Dumb Friends League, so thank you to our sponsors for making the contest possible: The Pet Stuff Place, Brekke Veterinary Clinic, Camp Bow Wow – Castle Rock, Lone Tree Veterinary Medical Center, Allstate [Pet] Insurance – Tammy Lopez, and Front Range Pet Stop.We always receive so many photos, and we try to include as many as we can. See below for photos of our top pics for 2022.
By Hollen Wheeler; courtesy photos