August 29, 2014
/
/
Comments Off

on Dickey's Barbecue Pit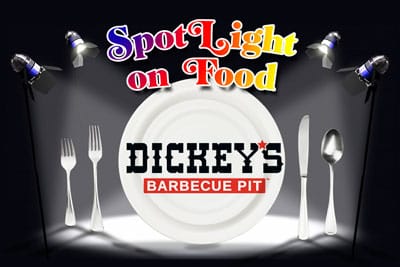 Dickey's Barbecue Pit comes to Castle Rock
By Lisa Crockett; photos courtesy of Dickey's Barbecue
Dickey's Barbecue, with its signature original sauce and slow hickory smoking technique, has been a Texas favorite since the early 1940s. With recipes that have stood the test of time, what used to be a regional favorite is now spreading nationwide. Dickey's Barbecue Pit opened last month in Castle Rock and has been smoking meat on site for a public eager to enjoy brisket, pulled pork, ham, sausage, ribs and other tasty delights.
"All our meats are slow smoked," said Tyler Dunn, the assistant manager at Dickey's in Castle Rock. "We cook our pork and brisket for 12 to 14 hours, which makes it moist and tender and gives it a great flavor."
Barbecue done well is a crowd pleaser; it's relatively easy to transport and appeals to a wide variety of palates, which makes it a natural choice for parties and celebrations large and small.
"We feed groups from 10 people to 1,000 people," said Dunn. "Catering is a big part of what we do. Barbecue 'holds' well, so at a party where food might sit on a buffet for an hour or so, the meat still has great flavor and texture."
Part of that great flavor comes from the seasoning of the meat and the smoking technique, which is then augmented by a choice of sauces. "Our original sauce is savory with a balance of sweet and spicy," said Dunn. "It's not super hot, but it does have a little bit of a kick."
It's apparent that the staff at Dickey's is passionate about the food they prepare. On a recent visit, they were happy to make recommendations, and had my food in my hands in no time at all. The chicken sandwich they recommended was moist, tender and juicy. The onion tanglers (a close cousin to an onion ring) were crispy and tasty, and the potato casserole with cheese, bacon and chives was a decadent treat. For dessert I had vanilla ice cream, which is complimentary to all guests at Dickey's.
"We are very family friendly, and serving free ice cream with every meal is part of that," said Dunn. "We have self-service vanilla soft-serve cones every day. Moms especially love that."
In addition to meat plates, sandwiches and a variety of side dishes liked baked beans, cole slaw and fried okra, Dickey's also offers loaded baked potatoes and hearty salads. The kids menu features regular menu items as well as chicken nuggets. Kids eat for free every Sunday.
Dickey's Barbecue Pit is open from 11 a.m. until 9 p.m. seven days a week and is located at 323 Metzler Drive in Castle Rock. For more information, visit www.dickeys.com.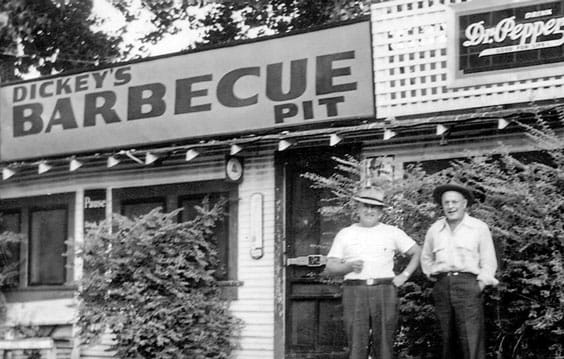 Ribs are a favorite at Dickey's Barbecue Pit, along with brisket, chicken and pulled pork. Sides like cole slaw and baked potato casserole are house favorites.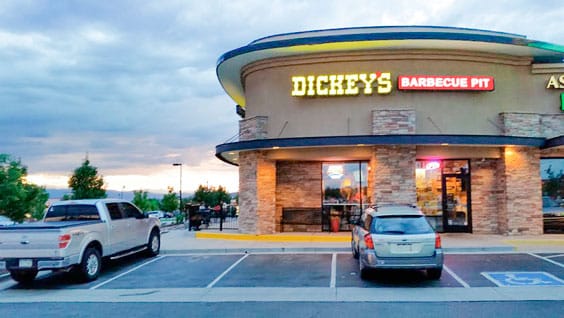 What used to be Texas regional cuisine is now available just a few minutes from home; Dickey's is open in Castle Rock.