August 30, 2014
/
/
Comments Off

on Congratulations Dave!
By Terri Wiebold; photo courtesy of Ron Hanavan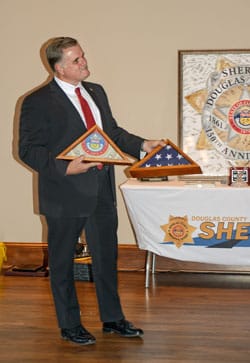 Friends, family, and colleagues joined together at Cielo at Castle Pines in August to celebrate the retirement of Sheriff David A. Weaver. Along with many well-wishes, Weaver was presented with framed flags to commemorate his 33-year service with the Douglas County Sheriff's Office.
"I am very proud of my time at the Sheriff's Office. It was a privilege to take care of and keep safe the citizens of Douglas County, and I worked with an amazing team," he said. "We caught a lot of bad guys!"
Carefree and quick humored, Weaver said that all in all, his career was a lot of fun. "I am a light-hearted person and I try not to take things too seriously," he said, "but I took my position as sheriff – and will, too, my position as county commissioner – very seriously."
Weaver said that he was "extremely humbled and honored" by the entire evening and the people who came to celebrate him and his career.
Weaver retires his official title of sheriff, only to take on a new title of county commissioner. Weaver joked that at the Sheriff's Office he was always called "David A. Weaver" because there was someone else he worked with who was also named David Weaver. "We used to get e-mails and messages mixed up all the time," he said. "I'm not sure what people will call me now … many at the County seem to have settled on either "commissioner" or just "Dave."
Although Weaver is the commissioner for District I (Lone Tree & Parker), Castle Pines is near to his heart. Weaver said he will still be active in the community, particularly in his current role as chairman of the Castle Pines Chamber of Commerce.
"It is important to me that the Castle Pines Chamber be known for something … what do we want to wrap our arms around and be known for; remembered by?" Weaver said he hopes the chamber's establishment of a speaker series may very well be that legacy. "The speaker series has the opportunity to bring together a variety of people from all areas – local, state and national to discuss topics that are of interest to the public." Education, government, local politics, the history of Douglas County … all examples he cited.
Weaver said he looks forward to the series growing, even long after his term as chairman is over. For now, he says he's got a lot of work ahead of him and he is ready to get to it!