Dirt hauling begins for North Meadows Extension
January 1, 2014
/
/
Comments Off

on Dirt hauling begins for North Meadows Extension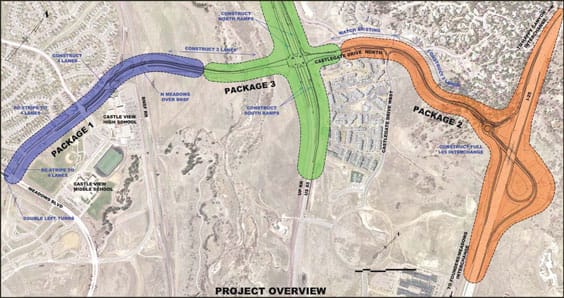 Information and map provided by The Town of Castle Rock
After a ground breaking ceremony in late October, crews wasted no time getting to work on The Town of Castle Rock's number one transportation priority, the North Meadows Extension.
With much of the site clearing complete, crews will now begin hauling dirt from the Castle Rock Adventist Hospital site to the North Meadows Extension site, near Castle View High School. This work will mean increased traffic along Meadows Boulevard and Meadows Drive.
Hauling began in mid-December 2013 and is expected to last three months. Six trucks are involved and are hauling loads between 8 a.m. and 5 p.m. Mondays through Fridays, with some Saturday work possible.
It is expected the trucks will make more than 15,000 round trips to complete the work. The material will be used as the embankment for the roadway up to the future bridge over the BNSF Railway line. In addition, new storm drains are being installed and early utility relocations are underway. This work is for the first phase of the project, near the high school.
With the start of construction, the Town and general contractor Edward Kraemer & Sons Inc. closed a section of sidewalk near the back of the high school as a safety precaution. This closure will remain in place throughout construction.
The North Meadows Extension will connect The Meadows to U.S. Highway 85 and I-25. The new road will extend from where North Meadows Drive currently ends near Castle View High School, and then will intersect with U.S. 85 where Castlegate Drive currently runs and then connect with I-25 about one mile north of the Founders/Meadows Parkway interchange.
As this project moves ahead, the Town and Edward Kraemer & Sons will work diligently to inform the public. The goal is to complete the project accurately and in a timely manner, so notice and work may occur simultaneously.
To sign up for updates or to obtain additional information about the North Meadows Extension project, visit CRgov.com/nme or call the construction hotline at 303-327-4033.