Emily Johnson gets a call back
January 1, 2022
/
/
Comments Off

on Emily Johnson gets a call back
By Celeste McNeil; photos courtesy of Emily Johnson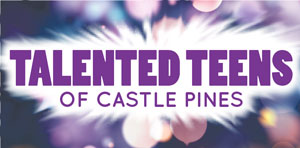 Every December, the Colorado State Thespian Conference (ThesCon) is held for high school students interested in all aspects of theater. ThesCon is a three-day conference, featuring master classes in thespian elements like auditioning, acting, dancing, singing, directing and stage management. Nearly every high school in the state was in attendance this year, including students from Rock Canyon High School's (RCHS) drama club.
In addition to master classes, student attendees are encouraged to sign up and perform individual events for small audiences during the conference. From the 3,000 attendees, about 30 are called back for an opportunity to perform again on the main stage for everyone at the conference.
RCHS junior Emily Johnson signed up for a musical theater solo and directed a one-act play. The solo earned her the callback honor this year. "I was really shocked when I got called back because it was my first year going, and callbacks are very selective," said Johnson.
Johnson has participated in drama club for the past few years and in various productions and choirs for many years, but she was still nervous to perform on the main stage in the Bellco Theater at the Denver Convention Center.
"I was really excited and nervous about performing main stage in front of 3,000 people. I had never performed by myself in front of that many people," stated Johnson.
Johnson rocked her solo, "She Used to be Mine" from the musical, Waitress.
"My favorite part was getting to be downtown and enjoy a few days with my friends while being able to perform," Johnson said of the three-day conference. She hopes to study musical theatre or vocal performance after graduating high school.