September 1, 2018
/
/
Comments Off

on Experiencing nature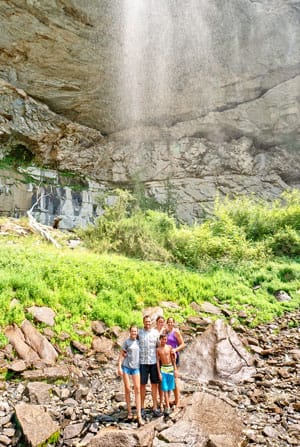 The Goodman family found an incredible view at Veil Falls on the Middle Fork of the Salmon River.
By Daniel Williams; photos courtesy of Jason and Rebekah Goodman
Jason Goodman grew up with a love of the outdoors. As a boy in Cheyenne, Wyoming, his dad would take him and his brothers camping, hiking, canoeing – basically any activity where they could go outside and enjoy nature. As a teenager, Jason realized he could make a living being outside, doing what he loved, and landed a job as a rock climbing guide. He thought he had found his calling, clinging to walls like a real-life Spiderman, but then he had his first exposure to a wild river, that power and mystery of whitewater rapids, and he was hooked.
The thing about rivers, Jason said in a recent interview, "is that every trip is different. No matter if it's a section [of the river] I've run hundreds of times or for the first time, no two trips are alike."
A family thing
Like his dad, Jason has shared his love of the outdoors and rivers with his family. When he and his wife, Rebekah, met, they realized they had similar interests. Rebekah also grew up camping and backpacking so it was only natural they would raise their three children to have an appreciation for the natural world.
"All of our kids had their first river experience by the age of four," Jason said.
Libby (16) a student at Rock Canyon High School, was two the first time she went, according to Rebekah. Jordan (13) attends Rocky Heights Middle School, and David (12) attends Renaissance Expeditionary Learning Outward Bound School in Castle Rock, where students can "go on voyages twice per year to the Colorado outdoors," according to the school's website.
But most of the adventures the Goodmans enjoy are taken as a family. Although they live in Castle Pines, the family is often found in wild places throughout Colorado and the surrounding states.
Wild places
This year has been a typically adventurous one for the Goodmans. Already they have spent seven days on the middle fork of the Salmon River in Idaho, five days at the Gates of Ladore on the Green River in Dinosaur National Monument, and five days on the San Juan River in Eastern Utah. Oh yeah, they also did an 18-day, 284-mile trip on the Colorado River through the Grand Canyon.
"It's hard to imagine how to pack 18 days of food and supplies," Jason said. "But it's fun watching all that come together as you build up to it."
Many people who travel the Colorado River do so in large, motorized rafts that hold 25-30 people, and they buzz through the Canyon in a week. True to their style, the Goodmans went old school, a small raft, paddles, grit and sweat. At night, exhausted, they slept under the stars, some nights on sandy beaches, others spent on ledges overlooking the river. Jason said their slower, scenic journey allowed them to "see everything the Canyon had to offer."

After a long day of braving the rushing rapids, there's time for relaxation along the sandy banks at the Gates of Lodore on the Green River.
The gift of the river
Jason's comment, about the river always changing, echoes that of the Greek philosopher Heraclitus, who, more than 2,000 years ago, said "No man ever steps in the same river twice, for it's not the same river and he's not the same man."
For whitewater experts like Jason, a question arises every time he grabs a paddle – what river will I find today?
Rivers shift, physically: the water levels constantly change; rocks are rearranged in the riverbed; such is the power of rushing water, even boulders the size of a bus can be moved. Jason's love for rivers has changed as well. He first entered them for the adventure, the adrenaline. Now, as he passes the paddle to his children, he sees the river through their eyes.
"I get to watch their joy as they build a drift castle in the sand or just hang out and play fun games, and for days or weeks at a time be more connected to one another instead of connected to technology. It's been incredible to pass this along to them and I hope they continue to enjoy it and build memories with our family and, ultimately, with families of their own."

Earlier this year, Jason, Rebekah, Libby, Jordan and David Goodman took an unforgettable 18-day, 284-mile trip on the Colorado River through the Grand Canyon.