Food Truck Frenzy – a great way to kick off the summer
July 1, 2016
/
/
Comments Off

on Food Truck Frenzy – a great way to kick off the summer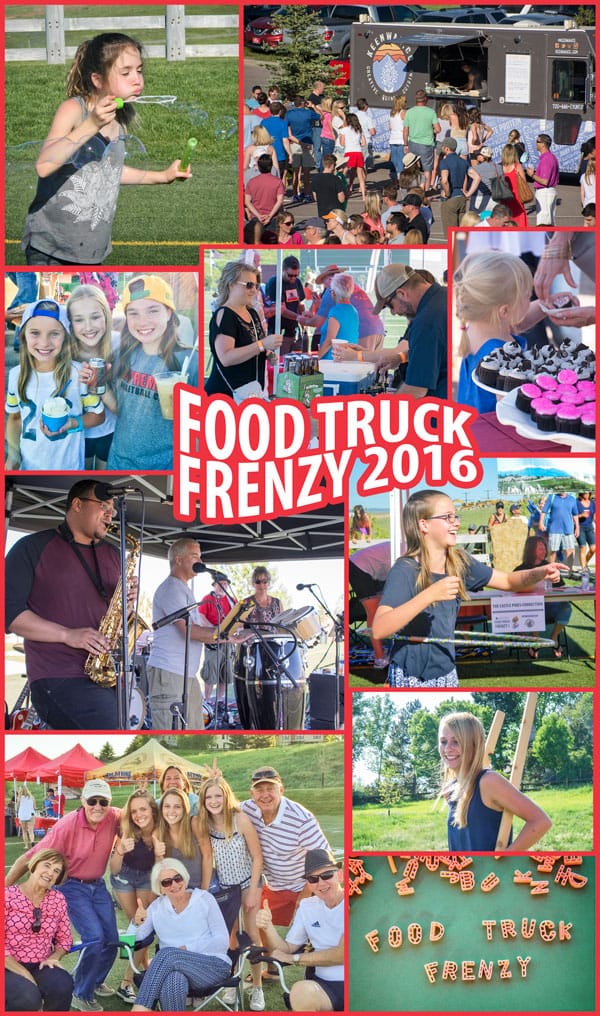 Congratulations to Ryan Burke ($100 Hapa Sushi Bar and Grill), Nicole Eubanks ($50 Duke's Steakhouse) and Diane Wheeler ($25 Rockyard Brewery) for winning The Castle Pines Connection's "Fun with Food" contest at the event. The winning words were "phone", "exhibitionist" and "jabberwocky."
Submitted by the Castle Pines Chamber of Commerce
It was indeed a frenzy! On Saturday June 4, the Castle Pines Chamber of Commerce held its second annual Food Truck Frenzy event at Elk Ridge Park in Castle Pines. The day was filled with gorgeous sunshine, delicious food, and wonderful live music.
Seven food trucks provided a myriad of food – from pizza, crepes and tacos to delicious ice cream and cupcakes. People from all over the community enjoyed camping out in lounge chairs and blankets and spending the day with friends and family. Some enjoyed tossing footballs and Frisbees, while others soaked in the sun and danced along to the hits of the 70s and 80s with the band Lookin Back. Little ones enjoyed hula hooping, climbing on the jungle gym, splashing at the water park and drawing all over the sidewalks with chalk artist Jerod Anderson.
Castle Pines resident Colette Celecki came with a large group of her neighbors and had a blast. "These events are what makes living in Castle Pines so wonderful," she said. "It's just so much fun spending the day with friends and enjoying where we live!"
The record turnout of people led to long lines at one point in the evening, and the Chamber is already looking to add more trucks to next year's event. "We take great pride in the events that we put on, and we are always looking at ways to improve them," stated Chamber President Carla Kenny.
Community events such as this are made possible due to the generous support of local business and community partners. The Castle Pines Chamber extends appreciation to the City of Castle Pines, The Castle Pines Connection, Douglas County Libraries, Spector, Dodd and Associates, Castle Pines Orthodontics, Castle Rock Bank, Castle Rock Adventist Hospital and Folkestad Fazekas Barrick & Patoile, P.C. law firm. Special thanks also to Rockyard Brewery for hosting the beer tent and to Steve Evans of Dancing Dawgz food truck for his tremendous help in organizing the food.
To view a slideshow of the event, visit www.castlepinesconnection.com and click on "Photo Album." To learn more about upcoming community events, click on "Events."
Up next! Be sure to watch for details of the upcoming "Party in the Pines," a full weekend of fun from August 26-28.