January 1, 2014
/
/
Comments Off

on Modmarket
Fresh new choices to start the new year right at Modmarket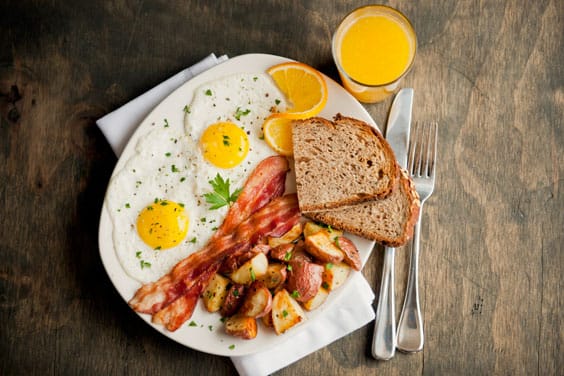 Breakfast at Modmarket is fresh and light, avoiding heavy oils by baking instead of frying when possible.
By Lisa Crockett; photo courtesy of Modmarket
It's resolution season. After a month or two of everything drenched in butter and covered in sugar, it's a time when many diners look for options that will treat their wallets and their waistlines kindly. Modmarket, a restaurant in Greenwood Village (and five other locations in the metro area) is just such a place. Simple, wholesome ingredients, prepared from scratch are the stars of the menu. Words like "organic," "fresh," and "made-from-scratch" dominate entrée descriptions.
It's the kind of place Boulder resident Anthony Pigliacampo was looking for five years ago. "I eat out pretty often, and I wanted somewhere I could eat that would taste good, and feature high quality food," he said.
When Pigliacampo, a mechanical engineer by training, didn't find exactly what he was looking for, he enlisted the help of friend Rob McColgan and in 2009 the pair opened Modmarket. It was an ambitious endeavor and the partners have been learning and improving ever since. Everything about the atmosphere at Modmarket speaks to their passion for the restaurant – from the sleek, tranquil interior spaces to the attention to quality of the ingredients used.
"We knew what we wanted," said Pigliacampo, "so we started there and learned how to make it." Food at Modmarket is simple – salads with savory dressings, sandwiches constructed with delicious fresh bread, pizza fired in a brick oven, and "homestyle plates" featuring the kind of fare you might make at home if you had the time – steak, roast chicken, and tofu.
On a recent visit, I devoured a "Red Chicken Melt" sandwich accompanied by a fresh salad of mixed greens. Other favorites with my dining companions were the roast chicken and the pizza. The highlight of my visit was a side of smashed potatoes. They were peppery and rich and I ate every last bite.
"We make the smashed potatoes without dairy," said Pigliacampo. "We just use olive oil, salt, pepper, and potatoes."
Be sure to try the "superfood" salad, a tasty and energizing mixture of spinach, kale, quinoa pilaf, feta, carrot, almonds, red grapes and champagne vinaigrette. Gluten-free, vegetarian, vegan and paleo options are all readily available at Modmarket.
Boylan's Cane Sugar sodas and organic iced tea are offered, but Pigliacampo said that Modmarket, unlike many other "fast-casual" restaurants, embraces the notion of water as a beverage to accompany dinner. "Encouraging people to drink water is intentional," said Pigliacampo. "It's healthier, and if you order water, we give you an actual glass – rather than a tiny paper cup – to drink from."
Dessert, likewise, is not the star of the show at Modmarket, but rather small bite-sized cookies, brownies and doughnut holes are on offer to add just a dazzling bit of sweet at the end of a meal.
Breakfast at Modmarket is something Pigliacampo – who said he's Modmarket's most frequent diner – is something he's especially proud of. "We follow the same tenets of quality as lunch and dinner," he said. "We use farm fresh eggs, a great nitrate-free bacon, and oven fried potatoes that we steam and convection bake so they're crispy but not oily."
Portions at Modmarket are reasonable, and half-portions are available for less-hungry diners. Prices are likewise affordable.
"We do the best we can to strike a balance between quality and affordability," said Pigliacampo. "We strive for good quality and execution."
Modmarket is located at 8575 E. Arapahoe Road, Greenwood Village. Hours of operation are weekdays from 7 a.m. until 9 p.m., weekends from 8 a.m. until 9 p.m. Prices range from $4.50 to $11.50. For more information about Modmarket, visit www.modmarket.com.