Celebrate the winter solstice at Elk Ridge Park
December 1, 2013
/
/
Comments Off

on Celebrate the winter solstice at Elk Ridge Park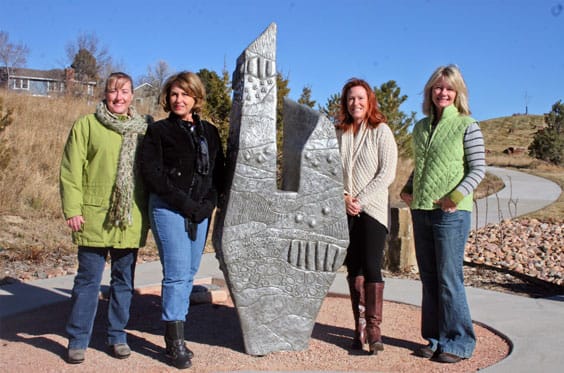 The Castle Pines Solstice Committee (pictured from left to right) Anna Mallinson, JoAnn Wolff, Kim Hoffman, and Mary Williams have an informative community and cultural event planned for the winter solstice on Saturday, December 21 at Elk Ridge Park beginning at 11 a.m.
Article and photo by Kathy Fallert
Saturday, December 21 is the first official day of winter and also the day the sun appears at noon in its lowest altitude above the horizon. The Solstice Committee of Castle Pines, comprised of City Councilwoman Kim Hoffman, sculptural artist Mary Williams, Anna Mallinson of the Castle Pines Parks Authority and Master Association, and JoAnn Wolff of the Castle Pines Arts and Cultural Foundation have a special celebration planned for this annual event.
This scientific, historical and artistic occasion will take place at Elk Ridge Park on December 21 beginning at 11 a.m. High noon, or actually make that low noon, will be the key time when the sun will interact perfectly with the solstice sculptures created by Williams.
Wolff remarked, "The community is coming together to make our solstice celebration a success. The Chamber of Commerce is providing hot chocolate, the Castle Pines Arts and Cultural Foundation is providing cookies and will have the Castle Pines community ornaments available for sale. Axel Bishop, the landscape architect who was instrumental in the design of Elk Ridge Park, will be present to discuss the numerous educational stations in the park."
The solstice committee intends to enlist the help of local boy scout troops to man the stations and answer questions about them and is seeking the assistance of a Native American expert to talk about the solstice and how it relates historically to various tribes.
Williams will be on hand to explain and discuss the solstice sculptures and the significance of the solstice to the ancient Pueblo people, commonly known as the Anasazi Indians.
Dimitri Klebe, the astrophysicist who was paramount in collaborating with Williams on the exact scientific alignment of the sculptures, will be on hand and plans to display a four foot replica of Stonehenge at the event. Klebe will be available to answer solstice as well as Stonehenge questions.
For additional information, contact JoAnn Wolff by e-mail, jmhwolff@hotmail.com