December 1, 2013
/
/
Comments Off

on Via Baci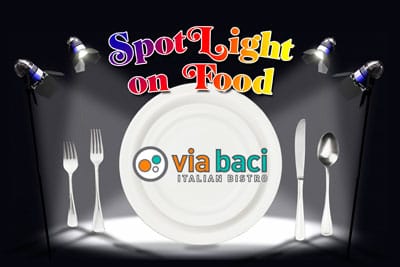 Come experience a slice of Via Baci's signature Neapolitan pizza
(pictured left) or the made-from-scratch spinach artichoke dip (pictured
right).
Fast, casual Italian dining at Via Baci
By Lisa Crockett; photos courtesy of Via Baci
I want to eat delicious food, and I am nearly always in a hurry. Every so often, these two things converge in a delicious way. Via Baci, just up the road in Lone Tree, has combined quick service with classic Italian food by embracing a very Italian way of thinking about eating – good ingredients make delicious meals.
"One of the reasons we can get food made quickly is that we focus on making things that are fresh and simple but high quality," said Via Baci general manager Jeff McCleary. "Our pizza crust has three ingredients: Caputo '00' grind flour, brewers yeast and water. When you use good things, you don't have to add a lot of extras."
An 800-degree oven stands at the ready to quickly cook the restaurant's signature Neapolitan-style pizza and other house favorites like Rosemary Chicken and Wood-Roasted Salmon. My personal favorite, though, is the Via Baci Chop salad. It's full of tasty ingredients including fresh house-made mozzarella cheese and a Caesar dressing that tempts me to lick the plate every time I eat it.
"I think our Caesar dressing is one of the best ones out there," said McCleary. "I also love our spaghetti and our margherita pizza."
And though food is delivered efficiently, the atmosphere is anything but rushed. The sleek, modern interior of the restaurant and a tempting drink menu make it a perfect place to relax and enjoy the company of friends or family.
"We have a lot of interesting drinks," said McCleary. "We recently brought in a new beer menu with a lot of local beers and craft beers. We also have several great Italian, South American and California wines."
For a sweet ending, McCleary recommends the tartufo, a locally-produced mixture of vanilla custard, chocolate mousse, cocoa and hazelnuts. Or, for a fun twist on the restaurant's main-dish fare, try the Nutella pizza which features Nutella, honey, mascarpone cheese, strawberries and balsamic syrup.
Via Baci is located at 10005 Commons Street in Lone Tree (in the Super Target Center). It is open for lunch and dinner everyday, from 11 a.m. until 9 p.m. weekdays and 11 a.m. until 10 p.m. on Friday and Saturday. Menu specials are offered daily, and most lunch pizza, pasta and entrees range from $9 to $12; dinner from $10 to $17.
The holidays are coming, and Via Baci offers take out and party trays for entertaining. For more information, visit www.viabaci.com or call the restaurant at 303-790-0828.