From avocation to vocation with the stroke of a pen
January 1, 2014
/
/
Comments Off

on From avocation to vocation with the stroke of a pen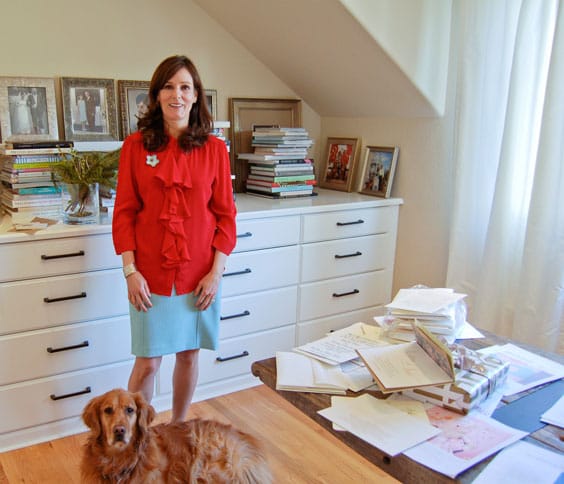 Without a formal art background, Kelle McCarter turned her love of style and art and an interest in calligraphy into a successful business. "I've reached this point through sheer ignorance and passion!" McCarter remarked. McCarter is pictured here in her home workspace with one of her beloved golden retrievers.
Article and photo by Amy Shanahan
Kelle McCarter is a warm, polished, unique, artsy, and vibrant spirit who has discovered multiple outlets for all of her creative talent. A resident of Castle Pines Village, McCarter moved with her husband to Colorado in 2006 and embarked on a bit of a career change that has led to tremendous success.
McCarter founded her own design company "designsgirl" in 2003, and originally focused on graphic design. Having always been intrigued by the art of calligraphy, she joined the Colorado Calligrapher's Guild and began taking classes and attending workshops. McCarter began incorporating calligraphy into her graphic design, and from there, her business was born.
McCarter has become a very talented calligraphy artist, and she is well-known throughout the industry. Early on, McCarter was discovered by Bella Figura, a popular high-end wedding invitation company and its sister company Smock Paper, which is known for its beautiful wrapping paper and stationery products. Every year, McCarter creates two new designs for the companies, which are showcased in their catalog of products.
McCarter is also a freelance designer for Crane and Co., which showcases two of her engraved products, a "Thank you" card and a "Je t'aime" card. Additionally, two of McCarter's designs, "Stella" and "Bescal" have become standardized calligraphy fonts, which are available for custom designs and specialty pieces.
"What started as an avocation has become a vocation," McCarter remarked. "It's a real joy for me!"
McCarter is inspired by the world around her and is constantly creating new works of art. Her style is more modern and is reflected in her gorgeous light filled workspace, which occupies the top corner of her home. Wrapping paper, beautiful notecards with hand-tufted pom-poms, place cards and hand-lettered cards are just a small sample of her artistic creations.
McCarter's business has grown to include a magazine called Paperswell which she self publishes and that showcases her fellow artists and is a venue for all of her artistic passions. Additionally, McCarter serves as a lifestyle contributor for Restyle Source, an online design source that promotes local businesses.
Some of McCarter's designs are featured at L'Arrangement in The Village at Castle Pines. To learn more about McCarter and her art, visit www.designsgirl.com or check out her blog at designsgirl.typepad.com.