From Tuscany to Castle Pines
March 1, 2022
/
/
Comments Off

on From Tuscany to Castle Pines
By Nancy Koontz; photo courtesy of Jonathan Radin and courtesy photos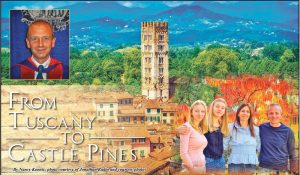 Born in Lucca, Italy, near Tuscany, Marco Del Chiaro, M.D., Ph.D., FACS will be celebrating his 50th birthday this year. The internationally renowned surgeon and his family made the decision to buy a house in The Village at Castle Pines in the fall of 2021, after having lived in Centennial for three years when they first moved to the U.S.
Reminiscing of a childhood in Italy, Del Chiaro said his favorite memories are filled with beautiful warm summer nights – the scents and lights of the Mediterranean Sea and the many quaint places to enjoy food and special coffees with family and friends. "It had its own alive vibe to it," he said.
Del Chiaro admits that he was a shy child that loved school. He recalls how his life changed when his grandfather had a "pioneering" operation. The family was genuinely concerned that he would not survive. After tears in the waiting room came relief and happiness when the surgeon came out and told the family that everything went well.
"I loved the joy everyone felt, after just a few hours before, we were crying. I thought how beautiful it would be to be able to save peoples' lives," recalled Del Chiaro. "I knew after such a moving family experience, I wanted to study to be a surgeon – bringing that kind of happiness to others. My passion is the same now. Becoming a surgeon was always a dream of mine," he concluded.
Prior to moving to the U.S., the Del Chiaro family lived in Sweden for eight years. He said they have loved the diversity and experiences of living in different countries, noting that you come out of it more respectful and appreciative of other people and their cultures. He added that life in Italy, more so than in Sweden, is similar to life in the U.S.
Del Chiaro works at the University of Colorado Anschutz Medical Campus. In addition to being a pancreatic surgeon, he leads the division that handles surgical treatments for most types of cancer.
Throughout his career, Del Chiaro has worn many hats, among them professor of surgery, division chief for surgical oncology, and director of the Hepato-Pancreato-Biliary program.
The Castle Pines community was the perfect place to set down roots for the Del Chiaro family. "The surroundings were so beautiful and reminded me of a vacation place, so there would be no need to even go on vacation!" Del Chiaro exclaimed. "Our home is like paradise; it's very relaxing and peaceful."
"It takes me 27 minutes to get to Anschutz, since I leave early, and that extra few minutes of beauty going through the Village is what I need before I get on the highway," he continued. "We love the summertime, and on the weekends, rather than going out to restaurants, it's more fun to grill steaks on our patio. We stay home a lot, and we really enjoy our house and inviting friends over to share our beautiful surroundings. That's the ideal weekend."
Del Chiaro is a runner and a skier, and commented that running through the Village reminds him of the hills in Tuscany, although the altitude has proven to be more challenging than anticipated. Del Chiaro said, his kids wanted to live in the U.S. because they loved the welcoming and open lifestyle. They kept asking him, "Did you sign the contract yet?"
"In the U.S., everyone who wants to learn and accomplish something good is welcome," he commented. "This is where I want to live for the rest of my life."