Castle Pines Family Practice & Urgent Care
July 29, 2021
/
/
Comments Off

on Castle Pines Family Practice & Urgent Care
By Kathy Fallert; photos courtesy of the Christensen family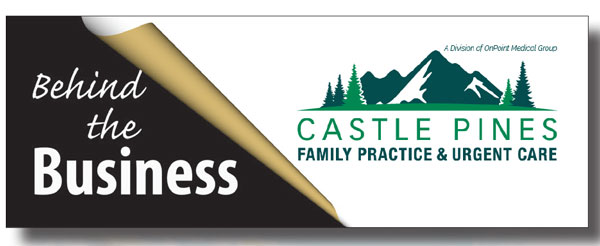 Although the address has remained the same for decades, the name and faces behind the urgent care practice at 7280 Lagae Road have changed.
Formerly known simply as Castle Pines Urgent Care, OnPoint Medical Group, with doctors Mark and Heidi Christensen, bought the practice more than two years ago. The Christensens have been a big part of the renovation and expansion, renaming the business Castle Pines Family Practice & Urgent Care to better reflect the broader service offerings.
Influencing their desire to purchase the practice in Castle Pines, the Christensens wanted more autonomy. "We wanted to be able to partner with our patients in different ways, including offering some unique services such as sports medicine," said Heidi. Mark is also trained in performing vasectomies and is certified to treat worker's comp patients.
"With my emergency medicine background, expanding the urgent care was exciting for me as well, added Heidi. We wanted to make the practice as much of a one-stop-shop as we could offer." Both doctors are certified in sports medicine and Heidi has additional training in emergency medicine.
Married for seven years, the couple live in Parker with their 3-year-old son, a new baby girl who is 4 months old, and their rescue dog, Buster, who is a Shih Tzu-Yorkshire terrier mix.
Mark is originally from Pipestone, Minnesota and Heidi grew up in Chico, California. The two met while in medical school at Loma Linda University School of Medicine in California and had many mutual friends. "We didn't begin dating until we reconnected during our fellowship training year at a conference in Philadelphia," reflected Heidi. "We are both sports medicine trained but attended separate programs."
What does this couple enjoy doing in their spare time? Sports, of course. They enjoy playing and watching. They both grew up playing multiple sports through high school and Mark was the point guard for his college basketball team. He still plays regular pickup basketball, intramural softball and flag football. The Christensens also enjoy playing golf or just getting out for some hiking.
In addition to their medical practice, Mark and Heidi are team physicians for Castle View, Douglas County and Rock Canyon high schools. Heidi quipped, "Our fall seasons are quite busy! We do sideline coverage as well as pre-participation physical events (sports physicals) every year."
When asked what they enjoy the most about having a practice in Castle Pines, Heidi said, "We love the close-knit, friendly community. All of the residents and business owners are very supportive of all of the local businesses. Working with the City has always been amazing, too. The city council and the mayor have always been so fun to work with."