March 1, 2014
/
/
Comments Off

on History Colorado Museum
History Colorado Museum exploration
Article and photos submitted by Rhett Jurkowski, fourth grade student, BRE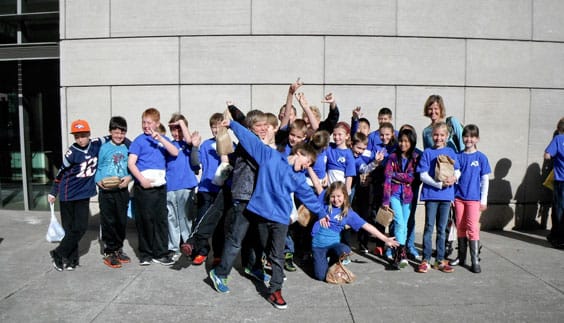 Mrs. Jaramillo's fourth grade class from Buffalo Ridge is ready to
explore the History Colorado Museum together.
What is better than going to the History Colorado Museum with your family? Going with your whole class! That is what I did in January. All of the fourth graders from Buffalo Ridge Elementary went to History Colorado and saw a bunch of really cool stuff.
My favorite thing we saw was the Sunnyside Mine exhibit. We had to lift a shovel with iron ore in it. We had to drill, too. I had to hold a stick while my partner Caden Tisdale hit it. We had to put fake explosives in the wall in the correct order and then press down on the box and watch the explosion. We heard a lot of Tommy Knockers, which are noises that sound like a knock on the door. If you hear this in a mine, you have to move to a different area.
Everyone loved the Model T Ford exhibit. We were able to drive while there was a screen in front of us showing where we were going. The car did not have seat belts, doors, or even a roof!
Another great part of the museum that we all liked was the chicken coop. We had to reach inside a box and every once in a while a wooden egg fell into the box. People from my class were putting their arms into multiple chicken coops. After that we had to put the eggs into a basket and carry it to Keota's store. Keota was a town in the 1920s and 1930s and now it is a ghost town because people moved away during the Dust Bowl.
Another area of the museum was Old Bent's Fort. We had to trade for survival items in a fun game where we bartered cards. Last summer I was at Bent's Fort (pictured right) when it was more than 100 degrees. The exhibit at the museum was a lot more comfortable.
At lunch, 97 kids and four teachers sang "Happy Birthday" to my friend Justis Towne, who turned 10 on the same day as the field trip.  The day was a lot of fun.
To learn more about History Colorado Museum, visit www.historycolorado.org.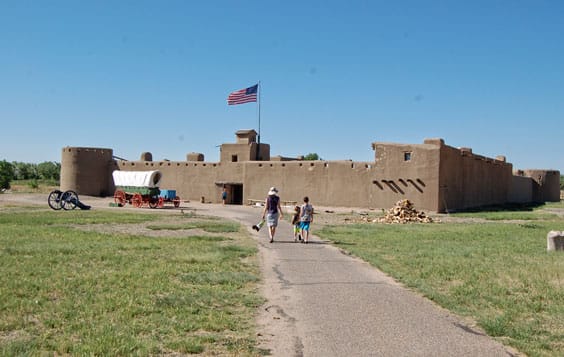 This is a picture of the actual Old Bent's Fort on the southern plains of Colorado.
The replica of it at History Colorado was pretty cool too.