Five Rock Canyon Lady Jaguars receive Women in Sports Award
February 1, 2014
/
/
Comments Off

on Five Rock Canyon Lady Jaguars receive Women in Sports Award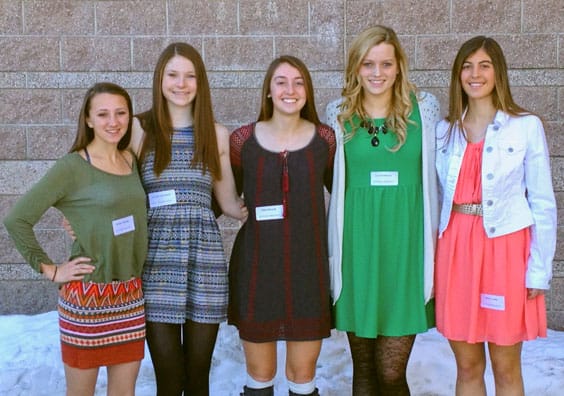 Five Rock Canyon High School senior girls were honored at the Ninth Annual Women in Sports Luncheon. (From left to right) Phoebe Schneider – Cross Country/Track: undecided; Victoria Vanderpoel – Swimming: Pomona College, CA; Jill Finnerty – Soccer: Texas Christian University, TX; Lexy Thorderson – Basketball: San Diego State University, CA; and Kaycie Young – Soccer: University of Portland, OR.
By Elizabeth Wood West;
photo courtesy of Rock Canyon High School-Athletic Department
Five Rock Canyon High School (RCHS) senior girls were honored in January at the Ninth Annual Women in Sports Luncheon, sponsored by the Douglas County School District (DCSD) and Douglas County Educational Foundation (DCEF).
The ceremony is in honor of Girls and Women in Sports Day, which was founded in 1987 and is celebrated in all 50 states to recognize the achievements of female athletes and to encourage their participation in girls' and women's sports.
Each year, DCSD and DCEF honor five female high school athletes and three female middle school athletes from each school in the district. The award criteria for middle school girls include participation in a school sport, demonstration of positive sporting behavior, and good work habits. The award criteria for high school girls include outstanding athletic accomplishments, leadership, character and/or academic work.
RCHS's 2014 "Women in Sports" honorees are pictured to the right, along with their sport and preferred college pick.