Holiday shipping; more options close to home
December 1, 2013
/
/
Comments Off

on Holiday shipping; more options close to home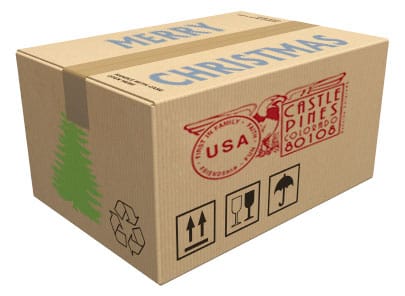 By Lisa Crockett
'Tis the season to send packages around the country. Here are some ways you can make this item on your holiday "to-do" list a little easier:
Post office locations and other mail service providers in or near the Castle Pines community:
Castle Pines Postal Center – 7280 Lagae Road, Ste. G, 80108
Village Postal – 858 Happy Canyon Road, #115, 80108
Lone Tree Postal – 9064 Forrstrom Dr., #B1, 80124
Highlands Ranch Post Office – 9609 S. University Boulevard, 80130
Castle Rock Post Office – 300 E. Miller Court, 80104
Louviers Post Office – 7895 Louviers Boulevard, 80131
Sedalia Post Office – 4195 Douglas Avenue, 80135
Parker Post Office – 18695 Pony Express Drive, 80134
Threaded Ink Media – 16522 Keystone Boulevard #A2, Parker, 80134
Franktown Post Office – 7519 East State Highway 86, 80116
The Postal Service recommends the following mail-by dates to ensure your gift arrives by Christmas. (For more detailed information on APO/FPO/DPO and other international mail, visit www.usps.com):
Dec. 3 – Parcel Airlift Military Mail
Dec. 10 — First class and priority military mail
Dec. 14 — Standard Post, the most economical shipping service
Dec. 20 — First-Class Mail
Dec. 21 — Priority Mail
Dec. 23 — Express Mail (check your local post office)
Looking for an alternative to the USPS?
The City of Castle Pines has a UPS Store located at 558 Castle Pines Parkway #B4, in the Safeway Shopping Plaza. Packages can be shipped domestically as late as December 22 for delivery by Christmas Eve through UPS. The UPS store also offers packaging services and has packaging materials for sale on-site. For more information visit www.theupsstore.com.

Helpful packaging tips:
– Make sure packages are able to withstand processing without the contents or packaging breaking.
– Cushion items with bubble wrap, newspaper, or "foam peanuts" so they do not shift during transit.
– Wrap each item separately when packing more than one item in the same box.
– Remove batteries from electronic devices and wrap separately.
– Close and shake the box to see if there is enough cushioning. If items are shifting, add more cushioning.
– Mark packages "Fragile" in large print on the outside of the box when shipping materials that might be more likely to break.
– When re-using a box make sure previous labels and markings are covered before mailing.
– Mark "Perishable" on packages that contain food or other items that can spoil.
– Place an extra address label with the delivery and return address inside the package. This ensures the safe return of an item that could not be delivered should the outside label become damaged or fall off.
– Always use tape designed for sealing shipping boxes. Do not use string, cellophane and masking tape to seal packages.