November 4, 2020
/
/
Comments Off

on Honnibrook Craft Meadery
By Carin Kirkegaard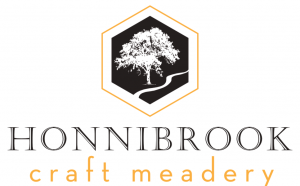 Mead, fermented honey and water, is the oldest documented alcoholic drink. Evidence of its fermentation was discovered in Asian pottery vessels that dated between 6500-7000 BC – making mead even older than beer and traditional grape wine. The ancient Greeks called it the "nectar of the Gods." Vikings drank it out of horns in celebration. Today, mead happens to be the hottest libation showing up in craft breweries and tasting rooms across the state. Honnibrook Craft Meadery, located just south of downtown Castle Rock, is the spot for locals to try this old, now new again trend.
Like many breweries across the Denver metro area, Honnibrook is a brewery attached to a tasting room. They do not serve their own food, but food trucks stop by on occasion and patrons are welcome to bring something to nosh; they can even have food delivered while they sip some mead. Housed in a man-cave garage that backs to Plum Creek, it is the perfect place to while away a warm fall afternoon. Tables are placed under large tents to provide shade and there are ample electric warmers when the sun slips behind the mountains and the air gets a chill. Friday evenings in front of the bar, a stage is erected for local musicians to play.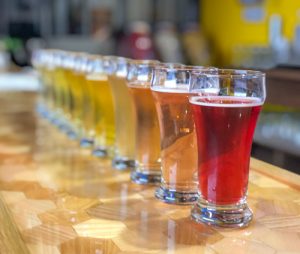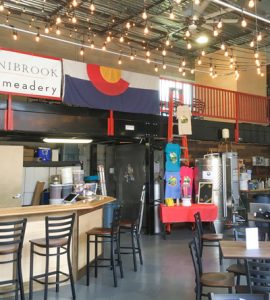 Being a predominantly outdoor venue, dogs are welcome to come and sit on the patio with plenty of water bowls to quench their thirst. Owners Mike Fagan and DJ Holtz are there to serve glasses of mead and will even pull up a chair and share their story. When new customers come in, either Fagan or Holtz offer a glass and wait to see the reaction of the patron when they take their first sip – smiling with the positive affirmations they receive.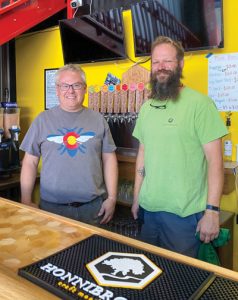 Traditional mead is often heavier in nature with a high alcohol content. Honnibrook's mead is designed to be the perfect answer for those who would like an option to the craft beers and ciders. With 15 different varieties on tap and four in the slushie machine, there are plenty of options to choose from. With the arrival of fall, Honnibrook is just starting to roll out flavors like pumpkin spice and apple pie.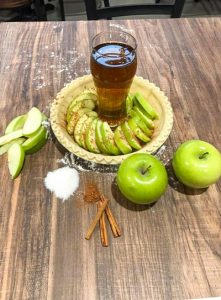 Both members of the American Mead Makers Association, Fagan and Holtz's friendship started at church, where they discovered they both had an affinity for home brewing. In the beginning, beer was their brew of choice. During those years of weekend brewing, growing weary of sours and IPAs, they decided to try their hand at making mead for friends and family. After some encouraging feedback, they entered a batch of cherry melomel (mead made with fruit) into the 2016 Denver International Wine Festival and won first place in the Orpheus Cup.
This success started a three-year process of setting up a production facility and tasting room in the personal warehouse complex. After taking classes at UC Davis School of Viticulture and Enology, they opened Honnibrook in February 2019 and just tapped their 500th keg of session (lower than 7% alcohol content) craft mead.
Every glass begins with Honnibrook's version of foundational mead, Natural Beauty. It is light and refreshing on its own and is the perfect base for all of their other mead creations. Honey is the key ingredient for mead and the
owners at Honnibrook source theirs from Lockhart Honey Farms, located in Colorado Springs.
Honey, depending on which flowers the forager bees collect their nectar from, takes on distinct flavor profiles. For example, honey made with nectar from blackberry blossoms has hints of blackberries in its flavor. Natural Beauty is made from alfalfa honey which has a mild flavor that doesn't overpower the taste of other ingredients. Holtz, a former chef, creates the recipes for Honnibrook.
They ferment Natural Beauty, adding carbonation before putting it into the kegs with whatever spices, fruits and other ingredients the recipe calls for – infusing the mead. This creates the light, easy to drink mead that Honnibrook is making its name with. "We are the only ones doing this," said Fagan.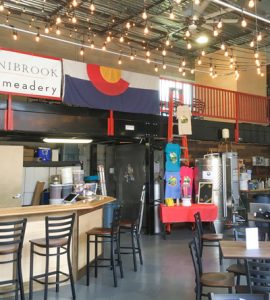 Made with only honey, yeast and water, mead is gluten free, and homage to the main ingredient is found in the details throughout the tasting room, from the honeycomb shaped lights hanging over the bar – which was skillfully crafted by piecing together individual honeycombs of wood – to the servers who wear honey bee inspired shirts.
The owners still have their day jobs. Fagan works in IT and Holtz delivers medical supplies. They call themselves hobby entrepreneurs … for now. The goal is to someday put all their efforts into running Honnibrook. "Our passion is producing the highest quality mead for you to enjoy with your friends, family and loved ones."
To learn more and to discover where you can find Honnibrook mead being poured at locations across the Front Range, visit https://www.honnibrook.com/home/.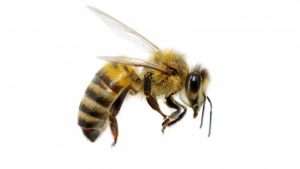 2276 Manatt Court, Unit B9
Castle Rock
720-257-9866
www.honnibrook.com
Thursday: 5 p.m. – 9 p.m.
Friday: 5 p.m. – 9 p.m.
Saturday: Noon – 9 p.m.
Sunday: Noon – 9 p.m.
Other times by appointment