November 4, 2020
/
/
Comments Off

on Wide Open Saloon
By Chris Michlewicz; courtesy photos

When roughly 2,000 people showed up for Wide Open Saloon's opening weekend in Sedalia the second week in March, owner Todd Hills saw a dream fulfilled – a dream that was 10 years in the making. In 2009, Hills hosted Wednesday night bike nights in the parking lot of Top Gun Motorsports off 58th Avenue and I-25 in Denver, calling it "Wide Open Saloon." Its popularity exceeded its physical capacity, and in 2010 it was forced to shut down.
Hills wanted to find a new location that was close enough to home but far enough that people felt like they were getting away. Sedalia seemed like the ideal spot, but it took several years for Hills to acquire the specific location on the southwest corner of U.S. 85 and Hwy 67 he wanted – the historic Johnson's Corner truck stop and diner. The building underwent major renovations, including raising the roof and knocking down walls, while still maintaining the original foundation. Designing the upper level to capture the sweeping views of the surrounding countryside and foothills proved to be a challenge, but the resulting rooftop lounge has 180-degree views of the front range and neighboring communities.
"The community kind of watched us, the pain and anguish we went through for almost 24 months of construction," Hills said. "It was grueling, and the community felt that with us."

Three days following the Friday, March 13 grand opening, Colorado's governor issued an order to shutdown dine-in operations at bars and restaurants across the state. "By that Wednesday, we had gone from a 400-person live entertainment venue to a barbecue takeout," Hills recalled.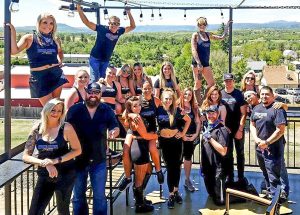 Knowing the first few months could make or break the saloon, customers from Castle Pines, Castle Rock, Sedalia and beyond came in droves, setting up lawn chairs in the parking lot, ordering food and throwing impromptu tailgate parties. While the pandemic has since forced some restaurants to shut their doors permanently, Wide Open Saloon has been thriving thanks to a tremendous outpouring of support from the community.
The Village at Castle Pines resident Meredith Love hosted her son's graduation party at Wide Open Saloon in late June. "The venue is great for just about any type of party or gathering," Love said, adding, "It's a great place to go for outdoor ambiance and the food was great." Love's guests enjoyed outdoor games, entertainment and tasty food, and they were out by 8:30 p.m. to make way for the night crowd, which includes 20- and 30-somethings avoiding the bars of downtown Denver.
With five separate gathering areas, including a considerable amount of outdoor space, Wide Open Saloon has a space for everyone. There is live music on Fridays, Saturdays and Sundays, and although capacity is temporarily limited, the wait for a table during peak hours is usually no longer than 15 minutes.The Garage Bar is the central hub of the saloon, adjoining the Music Hall, which could easily pass for a concert venue. It features a spacious stage, top-notch bands, plenty of seating, room for dancing and a palpable buzz when a band is ripping through its set. The Sedalia Room in the back of the saloon, meanwhile, has an open-air concept, with retractable windows that face west and look out to the train tracks, and a garage door that allows patrons to enjoy the Colorado weather on warm days. On colder days, however, it resembles a sports bar, with large TVs hanging from the ceiling and a cozy atmosphere.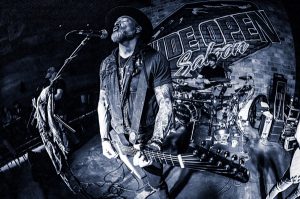 Wide Open recently covered its Handlebars Patio and has plans to install temporary windows to provide options for all-season dining. It will utilize freestanding heaters on the Wide Open Rooftop and cover it with a retractable roof, Hills said.
The saloon's proximity to U.S. 85 and Hwy 67 makes it a perfect pit stop for bikers, which account for a good portion of the saloon's business on weekend days. Attractions such as car shows, charity bike rides and bikini bike washes support that specific clientele. However, Wide Open Saloon serves all different types of customers, and you may find minivans next to large trucks in the parking lot on any given day.
"We get a lot of bikes by 11 a.m. on Saturday, but it's a mixture of bikers and big families coming in," Hills said. "We've transformed this venue into a place where now it's for everybody."

5607 U.S. 85, Sedalia, CO
https://wideopensaloon.com/
Monday – Closed
Tuesday – 11 a.m. – 8 p.m.
Wednesday – 11 a.m. – 10 p.m.
Thursday & Friday – 11 a.m. – 11 p.m.
Saturday – 9 a.m. – 11 p.m.
Sunday – 9 a.m. – 8 p.m.