It takes a village of thoughtful idiots…
June 1, 2017
/
/
Comments Off

on It takes a village of thoughtful idiots…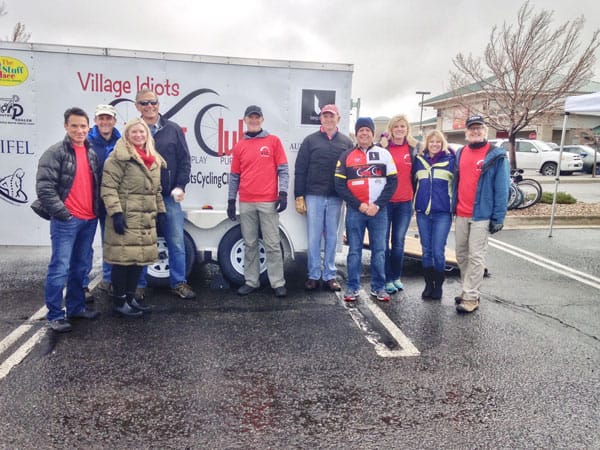 Some of the members of the Village Idiots Cycling Club on a drizzly morning at their third annual bike drive. One hundred and one bikes were donated that day.

Article and photo by Patte Smith
Kids riding bikes, laughing, pedaling their way to a friend's house or off to school – the innocence and happiness of this every day picture is not a reality for some children.
For the past three years, the Village Idiots Cycling Club has held an annual bike drive in the Castle Pines community. Each drive has been successful, but in 2017 the response was overwhelming. "We set a record this year receiving 101 bicycles on the bike drive day, and then three more after that," smiled John Rehl, president of the cycling club.
The cycling group has been together since 2007, and in 2015 became a 501(c) defined as "organized for pleasure, recreation, and other nonprofit purposes," such as the bike drive. This year the club decided to have the donated bikes given to Project ReCycle, a 501(c)( 3) nonprofit, founded by AJ Stapleton.
"This organization fits perfectly with our mission," explained Rehl. "They take used bicycles and refurbish them at their location on the vacant 4th floor of Castle Rock Adventist Hospital. Once they are back in working order, they are eligible to be distributed."
While the bikes are distributed in various ways, what caught the cycling clubs attention were the incentives for the children of the Project ReCycle organization. Their focus is on low-income schools in the metro area that apply to receive these bicycles for their students in grades 3 through 5. The children are not just given a bike, but they are encouraged to earn a bike by setting positive goals and improving in three areas – respect, attendance and academic growth during the school year. If they met or exceeded their goals, they received a Project ReCycle certificate for the Dream Bike event. A refurbished bicycle, a new helmet, water bottle, bike lock and bike safety education will be given to students during the celebration.
The Village Idiots Cycling Club's focus is on their enthusiasm to "pedal, play, and purpose." And, their "purpose" helps kids to be able to pedal and play.
The club encourages bicyclists of novice to expert riders to join them. There are all age ranges, and the rides accommodate a wide spectrum of abilities. For more information on the cycling club, visit www.villageidiotscyclingclub.org.
For information about Project Recycle, visit www.projectrecycle.org/