Jimmy and Lasinda Crane – Cranelli's Italian Restaurant
January 1, 2021
/
/
Comments Off

on Jimmy and Lasinda Crane – Cranelli's Italian Restaurant
Italian simplicity with a rustic touch
By Kathy Fallert, photos courtesy of Lasinda Crane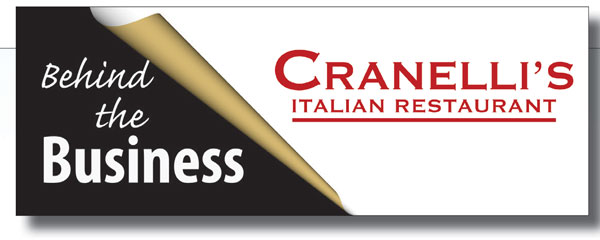 October 1, 2020 was a special day for Jimmy and Lasinda Crane, owners of Cranelli's Italian Restaurant in Lone Tree. It was their 20th wedding anniversary. Together for 27 years, the couple lives in Highlands Ranch, as do their three kids, Brittany, Connor and Niko and their 3-year-old granddaughter, Bethany.
Colorado residents since the age of 13, Jimmy is originally from Chicago and is the youngest of five kids, and Lasinda is from Florida. The couple met on a blind date set up by Jimmy's best friend and Lasinda's best friend here in Denver.
Jimmy is of Italian descent, while Lasinda is German and was actually born in Germany as an "Army brat." In their spare time, the Cranes enjoy hiking and working out. Lasinda remarked, "We all love getting together and playing games. Our most favorite is Mexican Train with Dominoes. Honestly, we simply love just hanging out at our house with all the family coming together. We barbecue on the back patio and enjoy."
Lasinda added, "We have one son left that is about to graduate from Highlands Ranch High School, so we like to do things with him – when he lets us! We love to go out to eat, and we love to travel. Chicago is our favorite place to go when we want to just get away and eat some amazing food."
December 26, 2020 was another special day for the Cranes, as they celebrated their seventh anniversary in operation at Cranelli's Italian Restaurant in Lone Tree (see Cranelli's ad in the E Guide insert for a special anniversary coupon).
Jimmy and Lasinda's first business venture together was a restaurant partnership with friends. Jimmy C's Pizza and Pasta is where Jimmy created the majority of the recipes now featured at Cranelli's. They partnered in business again in 2007 to convert an Indian restaurant into a steakhouse. Combined, the couple has 40 years of experience in the restaurant industry.
Cranelli's is a family affair, with all three Crane children having worked there at some point; Brittany still manages a couple days a week while in nursing school (she will graduate in May), and Niko drives and does deliveries.
Just as the Crane family is growing and spreading its wings, so too is Cranelli's.
"We are expanding into the space next door and should be looking at completion sometime in April … hopefully. We are so very excited!"