Peach w/Mozzarella & Basil Salad
August 29, 2014
/
/
Comments Off

on Peach w/Mozzarella & Basil Salad
Just peachy: fresh, late-summer delights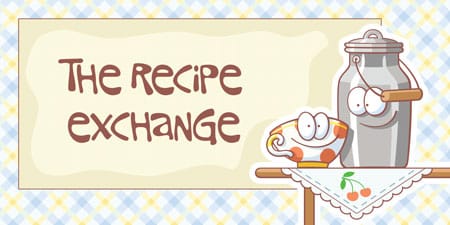 Article and photo by Lisa Crockett
Harvest is in full swing. With the bounty that is available at the supermarket and the farmers market, it can be hard to decide what's best to have for dinner. Corn, beets, potatoes, carrots, Brussels sprouts, and more zucchini than you can shake a stick at fill shelves and overflow pantries.
This time of year, it's not unusual for me to spend hours in the kitchen peeling and prepping fruits and veggies to be baked, roasted or preserved for later use. Some things simply have to be cooked in some way in order to be edible. Other things need some sort of processing to preserve them for longer than they will last in the refrigerator.
Some years ago, I spent several hot days in my kitchen cooking and processing jar after jar of apple butter, which we enjoyed months later as a delicious treat on our Christmas morning pancakes. I have made loaf after loaf of zucchini bread to share with friends and neighbors.
But part of the harvest is the simple joy of eating something in its natural state. Boxes of peaches, like those sold by the Castle Rock Rotary last month, are now making their way from the Western Slope to kitchens right here in Castle Pines. I am a huge fan of peach cobbler, and peach pie (so much so, that I've written about peach desserts in both July 2011 and September 2012) but there's a lot to be said for eating fruit just as it is.
Of course a piece of fruit is one of nature's favorite treats all on its own. But sweet, raw peaches are also great when eaten in concert with other ingredients. On the sweet side, a classic combination is peaches and cream. A few nights ago, I had a handful of peaches that needed to be used up, so I chopped them, tossed them in the blender with several scoops of vanilla ice cream and a splash of milk, whirled them until the mixture was smooth and slurped up a fresh summery treat.
Peaches, though, are also great with more savory ingredients. Mixed with mango, sweet peppers and a jalapeno or two, peaches make an exciting accompaniment for fish, chicken or pork. A few years ago I visited a restaurant that featured a fresh peach salad that combined peaches with basil and mozzarella. It was nearly identical to a salad I made with fresh tomatoes, and the idea of using peaches instead seemed a little weird to me. So weird, in fact, that I decided I had to try it. Turns out I loved it so much that I came home and made a version of the salad myself.
So get stewing and baking and making things to share and to enjoy when the weather turns cold, but don't forget to eat a little something fresh too. Like the harvest itself, fresh fruit is fleeting and something to be celebrated.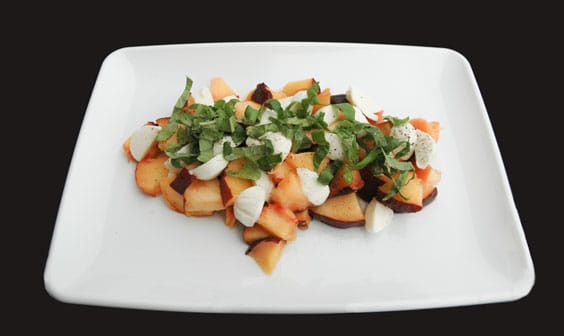 Peaches with mozzarella and basil
3 large, ripe peaches, chopped into bite-sized pieces
1 cup basil leaves, chopped (use more or less according to your preference)
8 ounces fresh mozzarella, chopped into bite-sized pieces
2 teaspoons olive oil
1/4 teaspoon salt
1/8 teaspoon ground pepper
Juice of half a lemon
In a bowl or on a platter, layer peaches, mozzarella and basil. Sprinkle salt and pepper over the top, then drizzle with olive oil and lemon juice. Chill for a half an hour or up to several hours. Just before serving, gently toss to combine ingredients.
Be certain to use only fresh mozzarella, which comes packed in a water bath and is available at the supermarket. It has a lighter texture and fresher taste than the mozzarella you use for pizza.