May 1, 2013
/
/
Comments Off

on Cheyenne Mountain Zoo

Let the kids roar at the zoo
Article and photos by Liz Jurkowski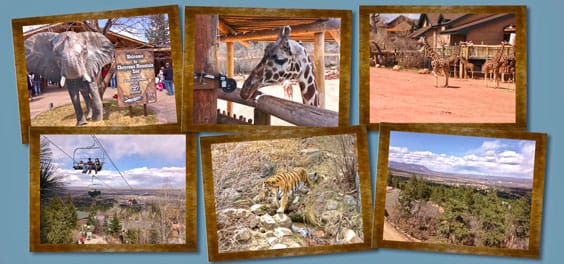 You are finished with Denver and are looking to branch out. You have visited the zoo, the museums, the Botanical Garden, and everything else Denver has to offer and are ready to journey to a new destination, right? Then pack the kids and some snacks in the car and head to the Cheyenne Mountain Zoo. No, not north to Cheyenne, Wyoming. The Cheyenne Mountain Zoo is just a short trip south to Colorado Springs.
Tucked into the mountainside behind the historic Broadmoor Hotel, the Cheyenne Mountain Zoo is a great family destination. For a full day, half-day, or even just a couple of hours, it is a place sure to bring smiles and memories to everybody in your family.
It was opened as a zoo in 1938 by Mr. Primrose (who also opened the Broadmoor Hotel previously). Since then, when it simply housed his private wild animal collection, the Cheyenne Mountain Zoo has grown. Now it is a home to more than two hundred species of animals.
Highlights for my family on a recent visit were the giraffe and grizzly bear exhibits. The giraffes are close enough to touch. For the very brave, visitors can purchase a large biscuit and hand feed the tall spotted animals from the African savanna. The two grizzly bears in the North American area were playful and fun to observe. Watching them swim in their pond and stand up on their hind legs was exciting and viewing them only inches away from us through the strong glass reminded me how either of my sons' heads could easily fit inside their huge jaws. Fun to watch, but scary, too. They are enormous animals.
For an additional fee, zoo visitors can take the Mountaineer Sky Ride. It is a four-person chair lift that rises over and above the zoo to a lookout area. The ride zooms above many zoo exhibits and animals, giving a bird's perspective of the animals in their habitats. At the top, views all the way to Kansas, or at least far into the plains greet the visitor on a clear day. There is also a playground and climbing wall at the top of the sky ride for the kids.
If you think you have done all of what Denver can offer you, or are just ready for a change of scenery, visit the Cheyenne Mountain Zoo in Colorado Springs. For directions and visiting hours, visit www.cmzoo.org.