Dr. Lisa Fox, Colorado Kids Pediatric Dentistry
June 1, 2019
/
/
Comments Off

on Dr. Lisa Fox, Colorado Kids Pediatric Dentistry
Passion for children's oral health and embroidery
By Susan Helton; photos courtesy of the Fox family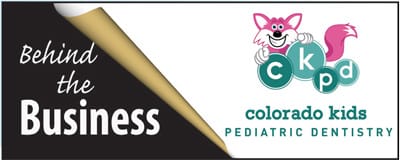 Dr. Lisa Fox is owner of Colorado Kids Pediatric Dentistry and two other pediatric dental practices. She joined Colorado Kids Pediatric Dentistry 18 years ago and became the sole owner around 10 years ago. "My life's passion has been focused on children's health care. When I received my nursing degree and began working as a pediatric ICU nurse, I saw many children being admitted to the ICU and, sadly, even dying from dental infections. Those situations drove me to pediatric dentistry and a life-long mission to improve oral health care for children," Lisa stated.
"My husband Brian is my partner in life – and in our business," stated Lisa. She and Brian have four children: Jackson, Sammy, Abby and Ellie. Ellie is their youngest and a junior at Regis Jesuit High School. Abby begins college in the fall at Loyola University, Chicago. Sammy is a senior at Xavier University, Cincinnati. Jackson graduated from the University of Notre Dame in 2017 and currently lives in Chicago.
Lisa no longer sees patients but enjoys mentoring the pediatric dentists in the practices. "I greatly miss my one-on-one interaction with my patients and their families. Nothing gave me greater joy than being able to transform a child's damaged teeth and give them back their smile," Lisa exclaimed. She now has additional time to continue her outreach to educate and develop programs to improve the oral health care of Colorado children. "Our practices stress the importance of oral health care instruction and the application of fluoride varnish and tooth sealants, and we encourage fluoridated water at home. I also work with local schools and community groups to spread the word," stated Lisa.
Lisa has experienced both opportunities and challenges owning multiple pediatric health care businesses. "The business of dentistry is continually evolving," she stated. Lisa works closely with the state government and insurance carriers to provide the maximum benefits to patients. With Lisa focused mostly on the clinical aspects of the practice, Brian manages the books. They both also address the businesses' day to day needs.
Managing the businesses is time consuming. "However, it doesn't stop me from enjoying Colorado's wonderful outdoor opportunities," stated Lisa. In Keystone, the family has a small cabin that backs to national forest. From there, they ski all of Summit County, although Keystone is their favorite. In the summer they hike and bike the many nearby trails and even use the cabin for an early-morning start on a 14er.
"I also have a secret passion for embroidery," Lisa revealed. She loves raw edge appliqué machine embroidery. Her favorite things to make are quilts for newborns, with their names on them. The embroidery she finds most fun is appliqué animals on baby onesies. Lisa stated, "Of course, you may find my employees wearing shirts or scrubs with our logo embroidered on them as well!"