Lisbon, Southern Portugal and Madeira
August 1, 2018
/
/
Comments Off

on Lisbon, Southern Portugal and Madeira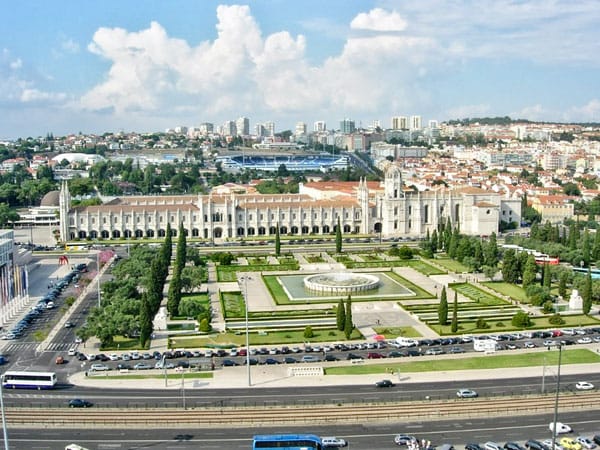 View of Mosteiro dos Jeronimos in the Belem district.
Article and photos by Joe Gschwendtner
Many tourists in Portugal don't get much beyond Lisbon. For good reason. It is a welcoming city of cobbled street neighborhoods, hills, monuments, wide boulevards, arches and squares, rich in architectural delights. Aimlessly wandering alleys, boulevards and seven hills makes for a love affair.
Her history goes way back. Way, way back. To Celtic tribes, Phoenicians, Greeks, Romans, Carthaginians, and the Moors of North Africa, occupiers for more than 400 years until removed via siege in 1147 by Crusaders on their way to the Holy Land.
Set on the Tejo River, Lisbon was the exploration gateway for new trade routes in the 14th and 15th centuries. Monuments to this era in Lisbon's Belem neighborhood (Belem Tower, Discoveries Monument and the Mosteiro (monastery) dos Jeronimos) reflect this glory in Portuguese history. Not to be missed!
The sheer number of noteworthy city sights makes a list prohibitive. Thus it is essential that individual neighborhoods and their offerings be personally sampled. The Baixa, Alfama, Chiado, Bairro Alto, and Alcantara; take them at your leisure.
Sintra, another must-see city, is mere kilometers to the northwest. In another era, it was the favored summer residence of Portugal's rulers, conquerors, and carriage trade. Vastly popular as an urban resort today, its lavish gardens, opulent estates, castles and palaces have made it into a UNESCO World Heritage Site.
Day trip from Lisbon to a small town called Obidos. Called the "wedding city," this walled village of whitewashed homes with blue and yellow borders, bougainvillea trellises, and Moorish chimneys defines perfect. Smartphone batteries will go into deep discharge by your effort to capture the fullness of its charm.
Moving sharply south to the Mediterranean is the Algarve, a sun/sea holiday region. A visual spectrum of charming coves, rocky outcrops, and grottoes awaits. Faro is the air transportation hub, also marking differences in coastal terrain. West from Faro to Sagres is for the romantic with truly spectacular panoramas. East of Faro is more sand, offshore islets, and comparatively less development.
Sagres, Europe's westernmost point, once housed Henry the Navigator's famous school of navigation. Close by was a marine propulsion laboratory where experiments utilizing wider hulls and more productive sails were designed for greater distances and speed.
For an exquisite bonus, fly to Madeira (from Lisbon). Madeira is the top of a submerged volcano, Hawaii-like in many ways. This geography makes for cliff-hanging road travel, agricultural challenges and a "living on the edge" way of life. Observing Madeirans' adaptation to the land is fascinating.
For the adventuresome, hiking irrigation canal paths (levadas) clinging to mountainsides is, well, breathtaking. In Monte, take a wicker toboggan ride down a steep hill steered by locals. For something more tame, visit the buying floor of the Funchal fish market and meet a conger eel up close and personal. Or sample some Madeira in a vineyard and understand what sets it apart from all other wines. Islands often are gems in the travel portfolio. Madeira makes this crystal clear.