Lviv: A taste of the Ukraine
January 1, 2018
/
/
Comments Off

on Lviv: A taste of the Ukraine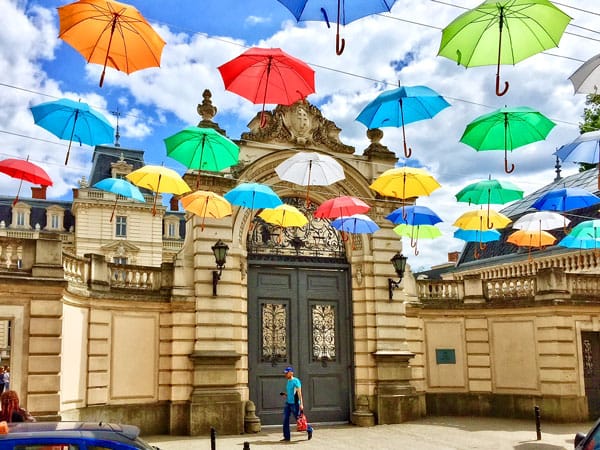 Every year in May, umbrellas appear like butterflies in front of Potocki Palace on Kopernick Street.
Article and photos by Joe Gschwendtner
I set off to Lviv ('Le-view'), Ukraine in May. Friends thought I had finally gone off the reservation. Know this: Ukrainians have a thirst for freedom likely second to none on the planet. Excluding the Crimea, where bullets still fly, I sought to savor the spirit of a country that was never really a willing socialist republic.
Why Lviv? Three overlapping cultures. Before WWI, it was the Habsburg city of Lemberg. After WWI, it became part of Poland and was renamed Lwow. After WW II, Stalin fused it to the Ukraine with other spoils of war, renaming the city Lviv. She became free with Ukrainian independence declared in 2004. Lviv also escaped the ravages of WWII, the reason that this marvelous cobblestoned city center is on the UNESCO world heritage list.
It is best to travel there via Warsaw and by plane. Growing Polish nationalism makes for long border lines. Lviv has a brand new airport, a mere 15 minutes from the old town. Hotel accommodations are quite reasonable. I stayed at the new IBIS, south of city center. Hotels.com has a comprehensive listing for review. Tempting Ukrainian food is a cross between Russian and Polish. My favorites were borscht, pliatsky (flavored potato pancakes), varenyky (pierogis) and holubtsi (cabbage rolls).
Old town Rynok Square centers on town hall, ringed by Greek fountains. A beehive of activity, visitors crisscross it constantly to patronize open air cafes, coffeehouses, view artists and mimes and window shop. Further west is boulevard Prospect Svobody. Its landscaped median strip makes it a favorite for daily strolls, outdoor exhibitions as they may occur, and access to the National Museum. The north end features the brilliant Lviv Opera House.

The Armenian Cathedral, begun in 1356 and among churches, the most lavish in the city.
Lviv boasts more than 100 churches, but the three most spectacular are in or on the periphery of city center: the Latin, Dominican and Armenian Cathedrals. Choosing only one, visit the Armenian; it is the oldest and most ornate.
An appealing destination northeast of the center is Vysoky Zamok Park. Within the park is Zamkova Mountain where a royal palace once stood. Today, the top elevation of 1,300 feet is known as High Castle Hill, dominated by a massive Ukrainian flag and overlook with 360-degree views. Secular and non-secular monuments are scattered throughout the park as are numerous benches, which beg to be used by weary travelers.
One is often tempted by the unusual. In Lviv, it was the Lychakiske Cemetery and the Salo Museum. The cemetery kept me occupied for hours, as many tombstones had pictures and eulogizing statements allowing for a window on life in Lviv through the ages. The Salo Museum, not so much. Salo, which I sampled, is uncooked pork fat, thin slices of it eaten with Vodka (a Ukrainian custom) or used as ingredients in national dishes.
Given the opportunity, I would return to the Ukraine in a flash, traveling northeast to Kiev with a day excursion to Chernobyl. Why not visit the Ukraine? Observing nascent freedom is exhilarating!