Castle Pines Acupuncture and Wellness
April 1, 2022
/
/
Comments Off

on Castle Pines Acupuncture and Wellness
Making a difference, holistically
By Hollen Wheeler; photos courtesy of Vonda Muncy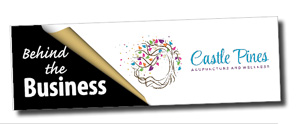 Acupuncturist Vonda Muncy is a businesswoman, outdoor enthusiast and wellness guru. For more than five years, she has run Soul Potential Acupuncture & Wellness, located on Happy Canyon Road in the Village shops. As a clinical director, doctor of acupuncture and Chinese medicine acupuncturist, Muncy runs her business solo and still finds time to have adventures with her family and improve her mind and body.
"I have been interested in natural healing methods for as long as I can remember," stated Muncy, who personally benefited from holistic healing when medication didn't help. "I believe our bodies have the ability to heal with the correct lifestyle, diet and attitude."
Acupuncture is a form of alternative medicine that has been around for centuries. Started by the Chinese, trained professionals insert cat-whisker-thin needles into strategic points on the body to activate healing and promote circulation which, in theory, helps to improve pain. Muncy sees an average of 10 patients per day and the majority are looking for relief from back and neck pain.
She is especially pleased with her training and healing of those with macular degeneration, a chronic eye disorder which can cause blurred vision and even blindness. "The most rewarding part of my job is seeing macular degeneration patients crying with joy after completing a series of successful treatments," Muncy said.
When elaborating on her practice, Muncy noted, "It is also gratifying to know I have made a difference when a patient walks in with debilitating pain, and while I am treating them, their pain is either gone or decreased significantly."
Muncy grew up in the Denver area but moved to La Jolla, California when she was in middle school. She competed in gymnastics from elementary school through high school. She attended San Diego State University for one year then transferred to Metropolitan State University in Denver, graduating with a bachelor's degree in the professional pilot program, earning a commercial pilot certificate with multi-engine and instrument ratings. Instead of becoming a pilot, Muncy pursued a career at Continental Airlines as a flight dispatcher, a job she kept for more than 20 years before "retiring."
While at Continental, Muncy felt a calling to become a naturopathic physician. She began studying anatomy, physiology, chemistry, and biology at a local community college. Realizing that she would have to leave her day job, she let the dream go. Muncy had a change of heart when she experienced her own personal health problems. "I became interested in acupuncture as a career when an acupuncturist helped me feel better from various health challenges," Muncy added.
Delving into her second vocation, Muncy went to school at Colorado School of Traditional Chinese Medicine in Denver where she earned a master's degree in acupuncture. Muncy opened her acupuncture practice on Happy Canyon Road and then pursued her master's and doctorate degrees in Chinese medicine as well as her doctorate in acupuncture.
Muncy is married to her husband, Curtis, and the two recently celebrated their 29th wedding anniversary. The couple have two daughters, one at CU Boulder studying environmental design and one at Metropolitan State University in the professional pilot program. The family has a dog and a cat, "who mildly tolerate each other," said Muncy.
When Muncy isn't working, she practices Aikido, a Japanese martial art, at a dojo in Castle Rock. She likes to garden and as a family, the four like to scuba dive, bike, ski and hike. For indoor activities, the family has been known to take a day trip to Loveland Laser Tag or visit an escape room.
Muncy is happy with her "new" career helping her clients. "I enjoy seeing the smile on their faces as they are walking out the door because they feel better," she added.