July 1, 2018
/
/
Comments Off

on Making an impact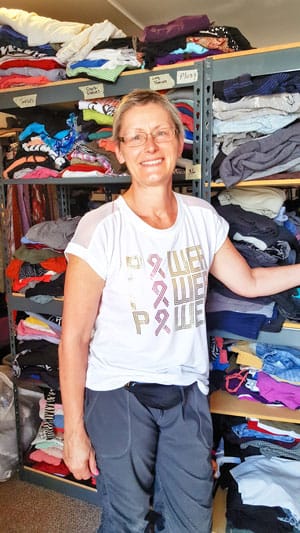 Brenda Bushey of Hidden Pointe volunteering at Impact Humanity, a new free retail store that opened in Denver's Five Points district to serve the needs of the homeless community. Impact Humanity is one of nine programs in the Impact Locally nonprofit. Bushey said, "It's amazing to feel a part of a collective group working together."
By Lisa Nicklanovich; photo courtesy of Brenda Bushey
Often a small act can make a big impact; that was the premise when then-California resident Brenda Bushey and a few friends got together and made lunches to distribute to homeless people on the streets of Los Angeles.
After moving to Castle Pines, Bushey learned of an organization, Impact Locally, that distributes sack lunches to the homeless in five different areas of Denver. Bushey continued her volunteering efforts with them, liking the collaboration and also that she could volunteer with her daughter Sarah. Bushey said, "There's too many homeless; the need is great. I wanted my daughter, who is being brought up in a great area, to be exposed to that and I love that what we do directly helps a person in need."
Bushey said her passion for helping the homeless is because her own dad was homeless for a time when Bushey was in high school. "Hearing the stories of what it was like made an impression on me," Bushey said. "It's not my place or business to judge why they are there. I can't fix their problem; I know that. I'm just helping another human being. That's why I got involved with Impact Locally. It's a way to help on a larger scale."
The Sack Lunch program is one of nine different programs Impact Locally runs, serving more than 5,000 homeless people in need every month. Loads of Love offers free laundry services, Shear Impact offers haircuts, and Curbside Counseling helps people navigate the many resources that are available from various organizations. A hiking program gets kids living in shelters, motels and the streets out and exploring. Impact Humanity, a free retail clothing store which opened in March, offers a shopping experience with dignity.
Bushey said, "I volunteered at Impact Humanity sorting clothes and helping customers. I was a salesperson, asking them what they needed and helping them find it." The store is set up like a boutique, except the interview outfit or cold/warm weather gear is free, thanks to donations. Bushey added that there is always a great need for toiletries and reusable bags. In the summer months, hats, sunscreen, shorts and reusable water bottles are welcome donations. To learn more about Impact Locally and how to donate or volunteer, visit www.impactlocally.org.