Meet the "Village Idiots"
April 1, 2009
/
/
Comments Off

on Meet the "Village Idiots"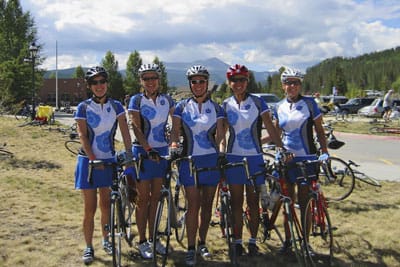 Left to Right: Susan Waltermire, Lesia Rehl, Becky Schmeits, Sara Tibby, Tracey McCarthy (Photo by Lesia Rehl)
by Carin Kirkegaard
Each summer a group of neighbors from Castle Pines Village (CPV) ride as the Village Idiots and tackle the Courage Classic Bike Tour, raising thousands for Denver Children's Hospital.
The idea to form the team started with John and Lesia Rehl. In 1994 John Rehl rode his first Courage Classic to commemorate the Rehl's twins, Alexandra and Evan who had passed earlier in the year due to premature birth. John has ridden every year since – even flying in one year from California. After having two subsequent successful pregnancies, Lesia decided to join her husband in 2001.
Over the years, neighbors have been joining the Rehls in their ride for Children's Hospital and in 2007 the Village Idiots became their official team name. Riding with teams like the Wheels of Justice – a team of lawyers and the Spin Doctors – a team of doctors the group wanted to come up with a creative name.
"We wanted something that stood out and decided to do a play on the Village theme of our neighborhood," said Lesia.
In their first year the Village Idiots raised more than $21,000. Last year, they raised $27,000 and the goal for 2009 is $30,000.
With 11 members currently, the team is looking for new riders. "You have to be willing to ride, raise money for Children's Hospital, a minimum of $300, and have fun, Oh, you also have to wear the team jersey and not be bothered when somebody calls you and idiot!" said Lesia.
To find out about joining the team contact Lesia at Contact by e-mail . To make a donation to the Village Idiots go to
www.couragetours.com/2009/team/villageidiots, scroll down and choose any rider listed to make a donation.
To learn more about the Courage Classic Bike Tour visit www.couragetours.com.