Neal Minarick, Duke's Steakhouse
March 1, 2019
/
/
Comments Off

on Neal Minarick, Duke's Steakhouse
Loving the restaurant business
By Susan Helton; photos courtesy of the Minarick family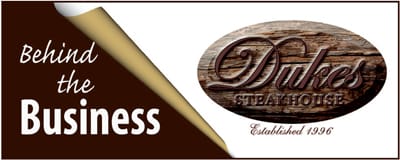 Neal Minarick, Duke's Steakhouse owner and general manager, grew up raising beef and dairy cattle in Nebraska. Neal worked in restaurants throughout high school and college and found he loved the restaurant business. "I was hooked at age 16," Neal stated.
During college in Lincoln, Nebraska, Neal met his wife, Jody. After graduating college, he worked for the Hilton hotel chain in California. In 1991, he and Jody moved to Colorado. They have two children, Cassen and Alicen, and Jody teaches high school in Monument.
About Dukes, Neal stated, "We've always been a family business. Jody and the kids have worked in the business, as well as my business partners Roger and Mary Breeding and Craig and Brenda Breeding. The restaurant business can be challenging, but we've had a lot of fun."
Away from work, Neal enjoys skiing and hiking with his family. Jody enjoys fourteeners, and Neal did hike Mount Bierstadt, but decided flatter hikes are more his style. They frequently hike Air Force Academy trails. The family also enjoys beach vacations together. Ever seeking inspiration, Neal likes attending culinary events and discovering new ideas.
Originally, Neal was nervous about moving the restaurant from the Castle Rock location. "The best part of moving the restaurant to Castle Pines was the way this community supported us from day one. Everyone seemed to be pulling for us. That was a nice surprise," stated Neal. "I've learned that Castle Pines is a fun-loving, loyal community. People here like to go out, even when it snows a lot – another nice surprise for a restaurant owner."
Sharing the story behind the restaurant's name, Neal stated, "In 1996, we were brainstorming a name for the restaurant. Our original location was next to the Horseman's Headquarters, a large tack and feed store. We decided we needed a western, cowboy name. My father-in-law's ranch (the Tootle Ranch) produced a Kansas Grand Champion Bull from a great line of bulls starting in the 1950s. This champion's name was Duke. You can see his portrait as you walk into the dining room."
Neal finds inspiration from seeing good people enjoying themselves and knowing that he played a part in that. "Time is precious and the time we spend with family and friends is the most precious," stated Neal. "I'm honored that so many people choose to spend some of that time at my restaurant."