Then and Now…City of Castle Pines
February 1, 2019
/
/
Comments Off

on Then and Now…City of Castle Pines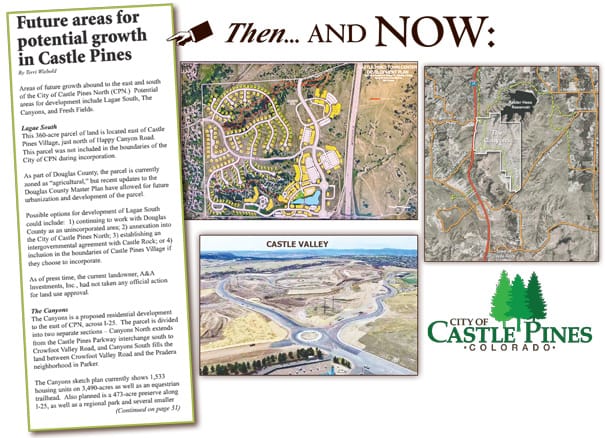 By Terri Wiebold; file photos
The City of Castle Pines covers approximately 6,114 acres or 9.55 square miles. Since its incorporation more than a decade ago, many of the areas The Connection reported on as "future areas for potential growth" have since been developed or are underway in the development process. Three significant projects include Castle Pines Town Center (formerly Lagae Ranch South), Castle Valley (formerly Lagae Ranch North) and The Canyons.

Castle Pines Town Center – Castle Pines Town Center is a 354-acre planned development west of I-25, just north of Happy Canyon Road. It was annexed into the City of Castle Pines in 2012, and preliminary infrastructure and lot development began last year. Home construction is anticipated to begin this spring. It is also zoned for 500,000+ square feet of mixed use/non-residential, 92 acres of open space, parks and trails, and a school site.
Castle Valley – Located just south of the Village Square Commercial District (King Soopers), Castle Valley is a 249-acre planned development which includes Elk Ridge Park and American Academy charter school (see related story page 6). This planned development was part of the city boundaries when the City was established in 2008. Residential construction is well underway, with roughly 70 homes occupied to date.

The Canyons – The Canyons is a 3,343-acre master planned community on the east side of I-25, which was annexed into the City of Castle Pines in 2009, more than doubling the footprint of the initial city boundaries. In 2015, Shea Homes Colorado purchased 1,270 acres of the property to build 2,000 single and multi-family homes. Infrastructure and lot development on that portion of the property are underway, with anticipated homes available for purchase later this year.
In addition to these three substantial-acreage development projects, the City of Castle Pines has annexed the vacant parcel of land north of Castle Pines Parkway just off I-25 for a future "gateway" into the city.
Structural additions to the community have included the library (see related story page 5), a medical and dental office building, a childcare facility, a bank, the expansion of DCS Montessori to include a middle school, and an assisted living complex.
Numerous landscape and traffic flow improvements have enhanced the city's charm, and recreational amenities including Elk Ridge Park and a skate facility and basketball courts at Coyote Ridge Park have been added.
Stay tuned, as the next 10 years promise to bring continued change to this beautiful place that roughly 11,000 residents call home.