NO Vape Store in Castle Pines
March 1, 2022
/
/
Comments Off

on NO Vape Store in Castle Pines
Article and photo by Chris Michlewicz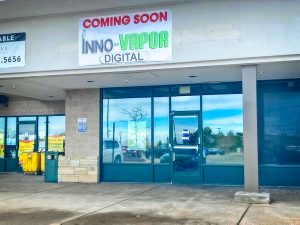 A store that planned to sell vaping products in the City of Castle Pines will not be allowed to open after City Council passed an emergency moratorium on such businesses last month.
A banner, which is in violation of the City sign code, went up in recent weeks where the shop intended to open (in the King Soopers shopping center). Due to an ongoing issue related to ZIP code confusion between Castle Pines and Castle Rock, the owners mistakenly went to the latter for approval and received it, according to Castle Pines City Manager Michael Penny.
"The sign is in violation of the City sign code and the business owners are receiving fines daily until it is removed," stated Penny.
The city plans to soon adopt an updated land use code prohibiting businesses that predominantly sell vaping products. Until that time, the emergency moratorium ensures such businesses don't open in the short term.