Norway: Oil, Splendor and a Troll's Tongue
July 1, 2022
/
/
Comments Off

on Norway: Oil, Splendor and a Troll's Tongue
When last in Norway, I enjoyed Oslo and the surrounding sights. Modern, chic, and progressive: Scandinavia on steroids. On another visit, I participated in Bergen's Rain Festival, which, could have been celebrated on any of 240 days of the year.
Norway will stun you with breathtaking scenery: high mountains, deep fjords, verdant valleys, massive forests, all the while rocking you with culture and affluence. It is the world's eighth largest producer of oil, third largest in gas. One may compare Norway to Switzerland; it is not inappropriate. By world standards, Norwegians are a wealthy populace with the fourth highest per capita income in the world.
One's Oslo arrival is the wake-up call. Smallish and chic, this capital city and home to the Nobel Peace Prize accommodates one million people, a fifth of Norway's population. Vikings named it Anslo in 1040 and it was their trading place. Sitting at the end of a fjord, it is ranked as the second greenest city in the world. Many travel guides call it a "hidden gem."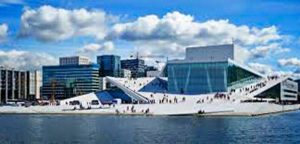 A list of things to do would be endless, so here are some "specials" by my definition. Take a 10 km harbor walk; absorb the old and the new. Orange informational markers will guide you. Kayak on the Oslofjord or cruise it on a windjammer. Dine on the many rooftop terraces. Rent a faering, a true Viking rowboat. Enjoy a harborside sauna session. Spend time in Bjorvika; once a booming container port, now a kitschy enclave, appealing to all ages. Its architecture is reason alone to gawk.
Norway's second city is Bergen, compelling proof of the well-known fact that Norway is a country of bad weather. Let this seemingly significant negative fact not deter you from visiting. There are brilliant offsets and distractions for 240 days of rain.
Bergen's magnetism comes from its Viking-tough cultural beauty. Bryggen, member of the trading Hanseatic League, is a UNESCO World Heritage Site in Bergen for countless reasons. The back streets of this former capital city are a path through the Middle Ages. Known as the "City of Gastronomy," her restaurant fare is fresh and seafood-driven. Her wooden harborside architecture is iconic, an epic stroll into the past, not to mention, the shopping possibilities. Take a funicular up to the top of Mount Floyen.
The city is also a jumping off point for fjord cruises. It's located on the huge, deep Sognefjord. Caution: missing any opportunity to sample a Norwegian fjord is to have missed the point of your entire trip. Stretching 120 miles, Sognefjord is also the deepest in Norway, at 3,300 feet in places. Its inside edge abuts a 6,600-foot mountain range and Jostedalsbreen, Europe's largest glacier. "Kodak moments" are everywhere, up, down and around.
Norwegian fascination with trolls makes for a national fantasy of stories, sightings and hairy, ugly souvenirs. For the picture of a lifetime and supreme bragging rights, travel to Trolltunga, three hours east of Bergen by public bus. A demanding 10-hour walk will take you to a troll's tongue itself. Hike and tread here and become a certified master of the universe.
Terror, splendor, spectacular … just don't get too close to the edge.
By Joe Gschwendtner; Photo courtesy of Pinterest