June 1, 2021
/
/
Comments Off

on Parker Garage
Where history and culinary flair come together
By Chris Michlewicz; photos courtesy of Parker Garage
A restaurant that celebrates local history and incorporates creative flair into its menu has made an indelible mark on those who savor a casual, refined dining experience.
Parker Garage, which opened on Mainstreet in the center of downtown Parker in 2015, puts its culinary prowess to the test every week with season-inspired specials that go way further than outside the box. Executive chef Justin Frapp literally leaves it all out on the table, with the encouragement of owners Brent Walker and Meghan Gold, who have years of experience in the fine-dining industry.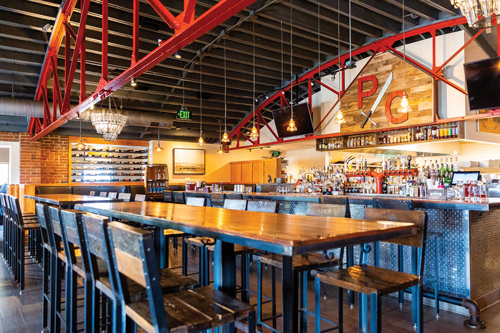 Parker Garage stayed true to the building that houses the upscale eatery, using the original brick and girders, and honoring its former use as the only place in town that serviced Ford Model Ts. The building caught fire on more than one occasion, as multiple businesses operated there in the preceding decades. As the new owners peeled back the layers of walls during the refurbishment, they found char marks and remnants of its 20th-Century heyday.
"We were inspired to keep the authenticity of what it was and yet elevate it," Gold said.
With a restaurant, of course, it's what's on the inside that counts most.

The starter menu provides diners with a sneak peek of what's to come. It includes chorizo-stuffed dates (bacon-wrapped dates, sofrito, spiced onions, queso fresco and micro cilantro), southern Colorado poutine (green chili, white cheddar curds and scallions) and elk carpaccio (cold-smoked elk tenderloin, smoked aioli, pickled blackberries, golden beets and watercress), among other inventive delicacies.
Main courses range widely from season to season, and sometimes depend on the unique offerings from their supplier, such as boar and octopus. Other dishes center around more traditional fare: steelhead trout served with chipotle crema, stewed black beans, queso fresco, radish slaw, avocado and micro cilantro; half roasted chicken with truffled white bean puree, crispy Brussels sprouts, artichoke hearts, white beans and lemon vinaigrette; and Walker's personal favorite, the 1855 Ribeye with roasted garlic potato puree, charred asparagus and Vidalia onion jus.
The made-from-scratch menu intentionally appeals to a broad spectrum of people: families, groups of friends, couples, neighbors and colleagues. Loyal customers know they're going to get a top-notch dining experience, but the ever-changing menu keeps them guessing.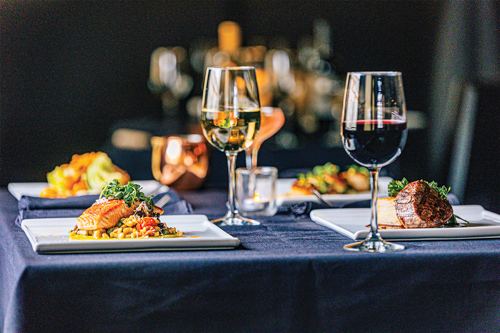 "We have people that have been coming in for years, and they've been the backbone of our success," Walker said. "We want to be the go-to for consistency and reliability, while being approachable from a pricing standpoint and still sourcing great ingredients."
In addition to its historical nod to the auto repair shop, Parker Garage paid homage to its predecessor, the Warhorse Inn – a Parker institution for 32 years – by turning the old restaurant's wood flooring into its barstools. Those and other artifacts, as well as pictures by famed photographer Andy Katz (the father of the restaurant's Sonoma-based winemaker, Jesse, who owns Aperture Cellars) lend a cozy ambience to the place. The ultra-relaxed suburban setting stands in contrast to Walker and Gold's other popular hotspot, Foraged, a sushi restaurant at 18th and Blake in downtown Denver.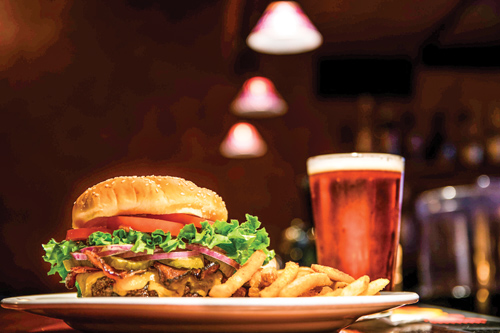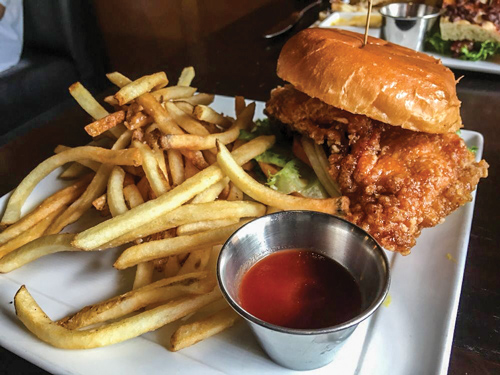 The front patio at Parker Garage is the spot to be on warm, sunny days, and the owners are putting renewed focus on upgrading and expanding the back patio to take advantage of a quieter atmosphere.
Exquisite food is not quite as good if it's not brought to the table by someone with a breadth of knowledge about the dishes. The wait staff is well-versed in the delicious details, as is Chef Frapp, who regularly hosts chef's tastings, a customized educational dining experience paired with wine or specialty whiskeys.
As with every successful business venture, the owners are easy to find. Walker and Gold, who have two kids, two dogs and two restaurants, can often be seen saying hello to regulars and new customers alike to bring a personal touch to Parker Garage.
"We built it into a place we would want to go to, and we try to be on the floor talking to guests as much as we can."