July 1, 2021
/
/
Comments Off

on Trestles Coastal Cuisine
Seafood hot spot brings taste of the coast to Castle Pines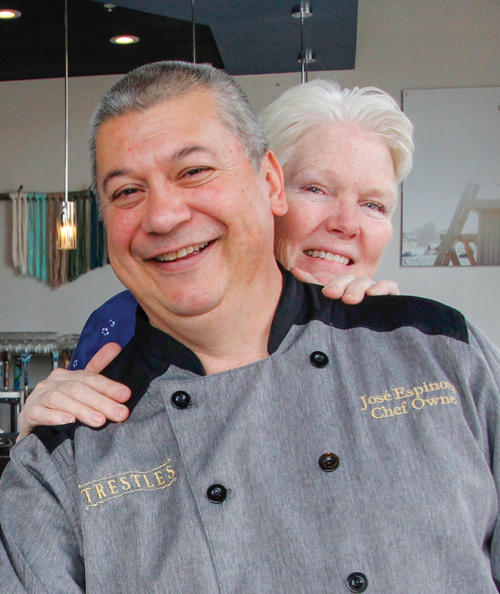 Jose and Mimi EspinozaA family owned and operated seafood restaurant has brought a much-needed taste of the coast to the Castle Pines area.
Trestles Coastal Cuisine, owned by Castle Rock residents Jose and Mimi Espinoza, opened in 2017 in the Village Shops at Castle Pines, and quickly gained a devoted following. Having visited their adult son and his family in Castle Rock for 10 years before moving to the area in 2016, they recognized that there was a demand for a seafood eatery.

Jose Espinoza, who also serves as Trestles' executive chef, points out that Denver International Airport is a stopping point for flights carrying fresh seafood from the West Coast to the East Coast, and vice versa, which means in some cases, the Denver area "actually gets fresher seafood than the coast," he said.
The chef-inspired menu features favorites like mouthwatering crab cakes, an acclaimed New England Clam Chowder and delicious sea scallops, but guests also come for the succulent rack of lamb and specials like elk tenderloin, grilled Hawaiian Ono or Australian sea bass. Other popular dishes include an Italian-American fish stew called cioppino, and pulpo shrimp ceviche, which is a mix of octopus and shrimp in a lime Pico served with corn tortilla chips.
"Our passion for the restaurant overflows and I think everybody can tell."– Jose Espinoza
A trio of inventive chef-crafted flavorful sides, sauces and desserts perfectly accompany the appetizers and main entrees. Once the menu's core items are refined, the team in the Trestles kitchen is given creative license to work its magic and experiment with new flavor combinations. That includes a full-time pastry chef, who whips up unique, decadent delicacies that have to be tasted to be believed. Margarita cake with a hint of tequila in the icing, anyone? The restaurant is also making homemade ice cream now, including cinnamon and brown sugar ice cream served with grilled peaches.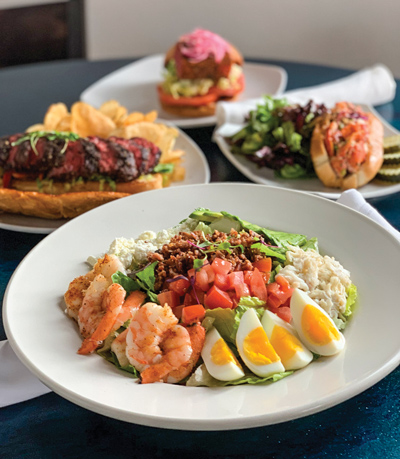 The name for the restaurant comes from the stretch of coastline between San Diego and Orange counties known for its incredible surfing waves. It's called "trestles" because visitors have to walk under railroad tracks to get to the beach. The Espinozas selected the name for their restaurant to evoke thoughts of the perfect day and the perfect meal at their favorite spot, and to bring a bit of home to Colorado.
First-time restaurant owners Mimi and Jose met while working at Pero's Spicery, a popular seafood eatery in Huntington Beach, CA. Jose served as head chef and Mimi waited tables, and "there were heat lamps between us," according to a bio of the couple on the Trestles website.
It was also there that they learned firsthand the importance of truly valuing the patrons in the dining room.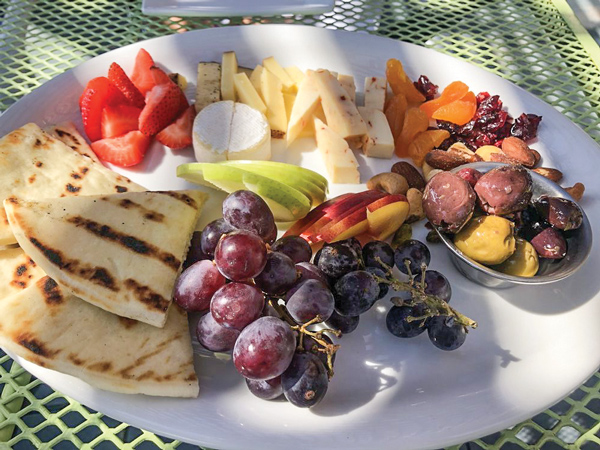 "When it comes to our guests, we want to treat them as if they're coming into our home, not just coming in to sit down and eat. They become part of our family," Jose said. "We're a community restaurant. The guests know us."
They also emulate the support – inside and outside the restaurant – for the crew that works diligently to get every meal right every time. That means even lending a hand when the employee is experiencing personal difficulties.
"It's not just a business, and our employees are people, not just workers," Jose said.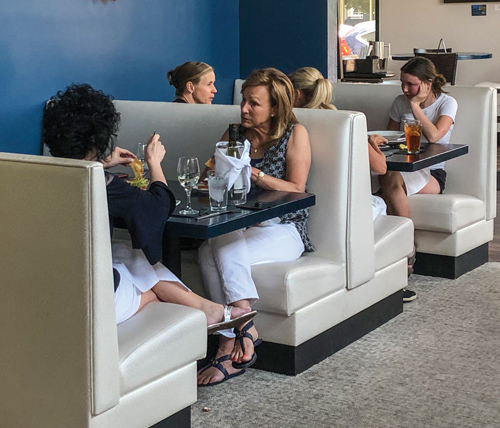 The Espinozas' loyalty and dedication to their family of diners and staff was repaid during the pandemic, when many restaurants were forced to shut their doors for good. Jose and Mimi recall with emotion seeing their staff struggle during the more trying times, when dine-in service ceased and hours were cut. Even still, some would come in on their day off because they knew the restaurant was shorthanded and needed their help with takeout orders.
Despite experiencing 15 weeks of only to-go orders, Trestles still had more sales in 2020 than in 2019, Mimi said, a telling testament to how important the restaurant is to regular customers. Some would leave a $100 tip on a $30 to-go order, she said.
The Espinozas, the parents of four boys, are now back to touting the return of dine-in service and their quarterly dinners that pair five courses with five different wines, in addition to friendly, personalized service.
"Our passion for the restaurant overflows and I think everybody can tell," Jose said.