July 29, 2021
/
/
Comments Off

on Pindustry
A game changer …
By Chris Michlewicz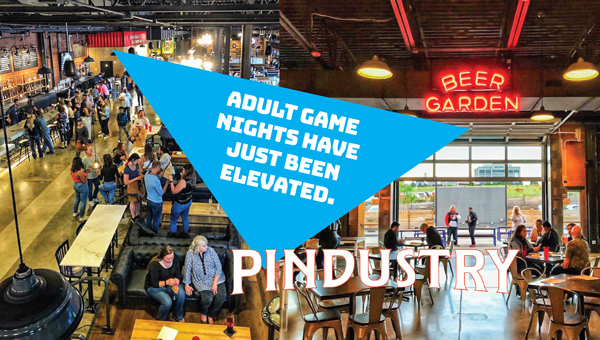 In the heart of a newly established entertainment district northwest of I-25 and Arapahoe Road is Pindustry, a cavernous venue that sports a vast array of interactive games, inventive drinks, chic-yet-tasty menu options, and one-of-a-kind rooftop views of the Front Range and Rocky Mountains.
When Pindustry opened on June 27, the public got its first taste of a concept that combines the best elements of entertainment venues across the country. The 54,000-square-foot fun center features traditional
bowling, duckpin bowling, billiards, cornhole, shuffle board, Skee-Ball, ping pong, darts, 10-foot-high basketball hoops, an expansive arcade with pinball machines and retro video games, and full-size beer pong that uses trash cans as targets.
Pindustry is most certainly a family friendly gathering spot, but after 8 p.m., patrons need to be at least 21 years old. On Friday and Saturday nights, there's a palpable buzz that reverberates throughout – the sound of connecting in person with friends and family – and often a live
band, too.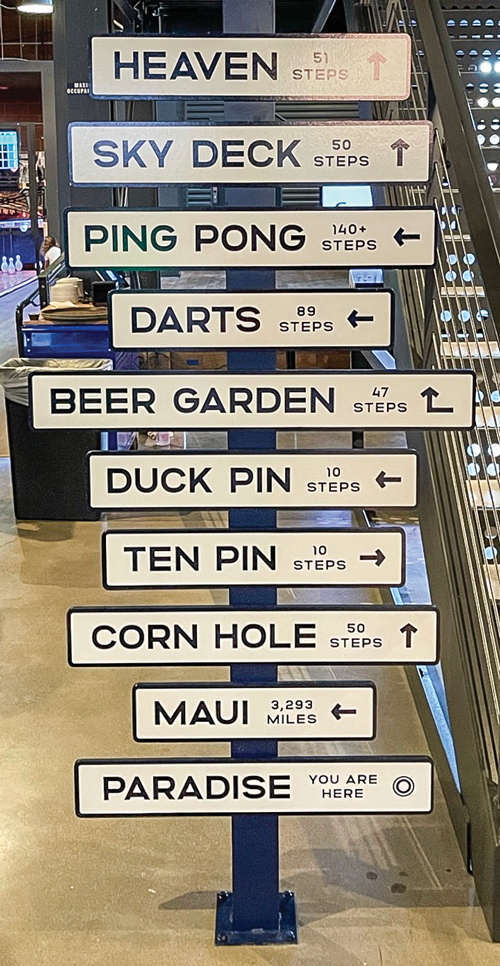 An AstroTurf "arena" with five sets of cornhole and stadium seating is a particularly popular spot on the second floor of the building. Located on the ground floor beer garden is ping pong, darts and more cornhole, and three garage doors that open to the inside for a harmonious marriage between indoor and outdoor attractions on warm days.
Shannon Silva, sales and marketing director for Pindustry, said the venue is centered around "social gaming," meaning any game can be played with a drink in hand.
Pindustry doesn't have board games on site, but patrons are welcome to bring in games to play while enjoying food and drinks. The beer hall has plenty of community seating and an energetic vibe coursing through it.
"There really is something for everybody. And if you don't want to do gaming, we have a 16,000-square-foot sky deck with an amazing view of the Front Range." – Shannon Silva, Marketing Director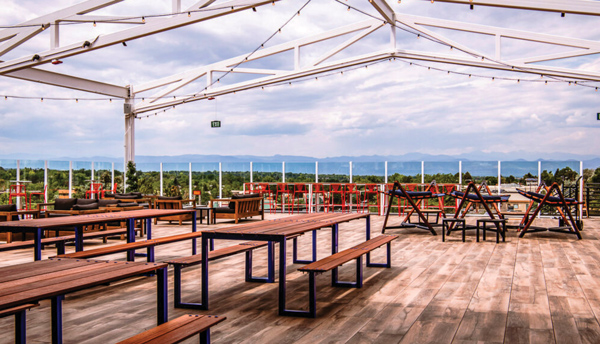 The sky deck is about 80% covered and includes its own separate bar. Customers sway in hammocks or sit comfortably on couches and enjoy a conversation next to a fire pit. Inside is a combination of exposed brick and chandeliers, concrete floors and zinc bar tops, and leather-bound beer tap handles. Silva refers to the aesthetic as a "high/low modern-industrial feel." Pindustry is so named because of the industrial environment and the use of pins in two of its games. A high-end audio system and large-screen media displays crank out music videos from all genres and all eras.
The menu includes fresh salads, charcuterie boards and 12-inch artisan wood-fired pizzas, and 18 different varieties of wine by the glass and 20 rotating beer options. There is also a robust whiskey and bourbon menu.
"We put a lot of thought into food and drink. We wanted to create an elevated experience that offers a contrast, where you can play cornhole but enjoy a glass of wine at the same time," Silva said.
Bob Koontz, managing partner of Pindustry and a resident of The Village at Castle Pines, said the venue is in an area with a complex set of demographics, including those who work in nearby offices and residents in neighboring homes and apartments.
"An entertainment district is something that the south suburbs needed," said Koontz, who also is part of the ownership group for Celebrity Lanes in Centennial. "It gives people who live and work in the area an option where they don't have to go downtown."
Koontz said the 2,300-capacity "eater-tainment" venue is an "evolution of things we saw working around the country," including duckpin bowling, a pastime more often played on the East Coast and in the Midwest.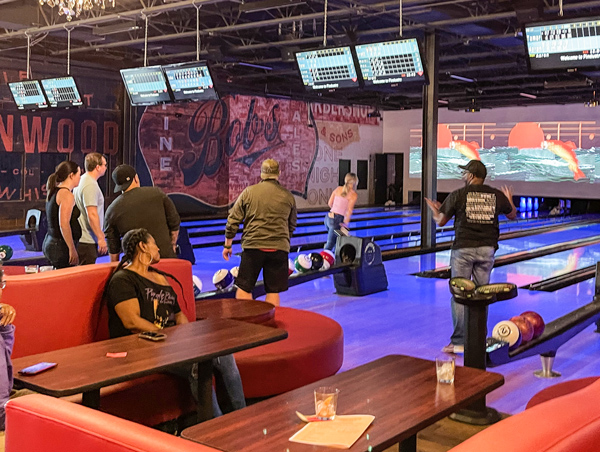 The game uses a shorter lane, smaller (holeless) ball, squatter pins, and three rolls per frame instead of two in traditional bowling. It's one of the many crowd-pleasing games offered at Pindustry, which has 12 lanes dedicated for duckpin bowling and 10 lanes for traditional bowling.
"It's got a real fun vibe, and with all the different games and activities in that space, it feels like you're at a block party," Koontz said.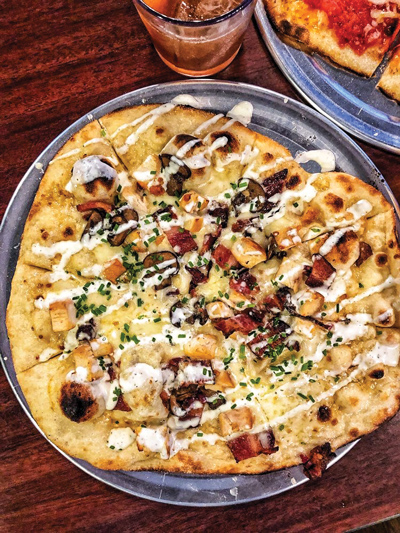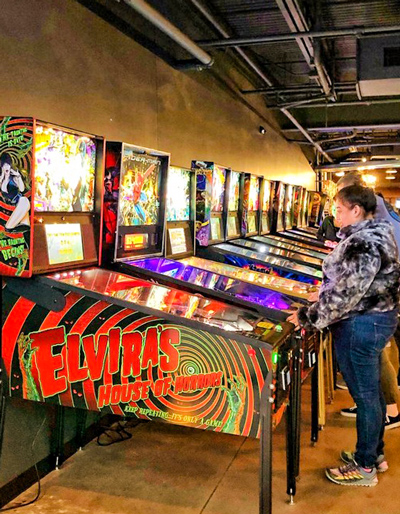 7939 E. Arapahoe Rd.
Centennial, CO 80112
https://thepindustry.com/