The Office – The Library – The GYM eateries
August 29, 2021
/
/
Comments Off

on The Office – The Library – The GYM eateries
Adieu to FrouFrou – Trio of eateries get back to basics
A vision to reinvent the local restaurant scene by focusing on simplicity and community has turned into a reality in Douglas County – times three.
Having spent nearly two decades working in Mexican eateries, including a few fine dining spots, restaurateur Mike Hernandez took time five years ago to reconsider what it means to be a restaurant. He realized there was an abundance of chic, upscale establishments in Douglas County – where he's lived since 2009 – but not nearly enough neighborhood hangouts with a laid-back vibe.
"I'd go out to eat and I would find this trendy, weird stuff on menus, and I don't even know what it is. I have to Google it to find out what I'm eating," Hernandez said. "I really wanted to move to a simpler, easy concept."
He opened The Office Bar & Kitchen in downtown Castle Rock in 2017, featuring a menu of tried-and-true favorites, and on the heels of its success, opened two more restaurants: The Library Co. Bar & Kitchen in Castle Rock, and, more recently, The GYM Co. Tavern in Parker.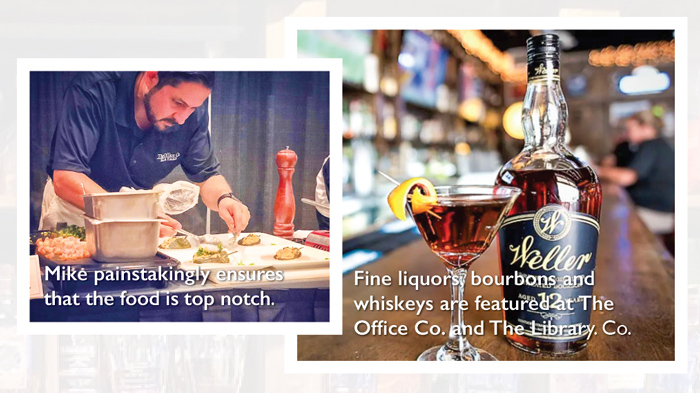 While they can all be categorized as sports bars, each eatery has its own special niche and atmosphere. The GYM, for example, serves woodfired pizzas and boasts an array of games, everything from darts, shuffleboard, pool and foosball to vintage arcade games. The place looks nothing like its former incarnation as a liquor store; it's dimly lit and maintains an easygoing atmosphere punctuated by jovial conversations between regulars and the sounds of sports coming from the TVs that hang on every wall.
Similarly, clusters of regulars congregate at The Office Co., exchanging friendly banter with a bartender whom they all seem to know and like. The space is vibrant and centers around a bartop backed by a towering wall of bottles containing fine liquors, many of them bourbons and whiskeys. Classic rock tunes emanate from overhead speakers, not too loudly and not too softly. A patio enables guests to enjoy the busy atmosphere of the downtown corridor along Wilcox Street.
The menu is expansive and varied; diners can order food to fit their mood, like mahi tacos, chicken potstickers with sriracha-infused soy sauce, and The Boss burger, which includes carnitas, andouille sausage, ghost pepper cheese, jalapeños and chipotle aioli.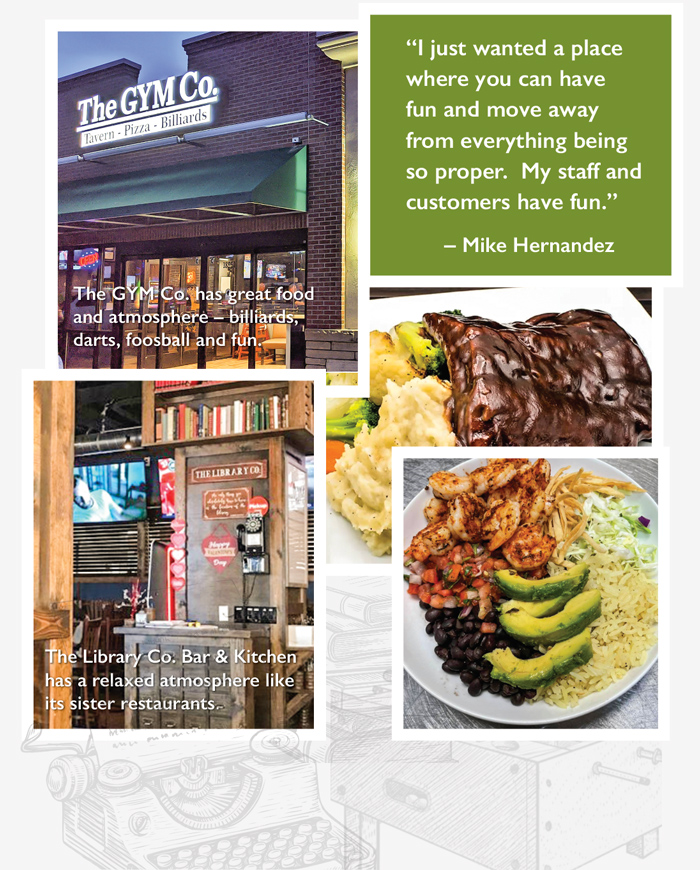 Patrons at The Library Co. Bar & Kitchen can start with any number of appetizers, from southwestern chicken eggrolls to oysters to bang bang shrimp to avocado toast. Then it becomes decision time for the main entree, and that's no easy feat. Diners must choose between dishes like the half rack of ribs with bourbon glaze and mashed potatoes, the chicken parmigiana dinner, or The Secretary burger topped with grilled mushrooms, grilled onions, onion jam, blue cheese and aioli.
Just as any good parent would, Hernandez refuses to name a favorite among his restaurants.
"The GYM is the newborn, so I'm usually there helping take care of it. The Office is the older one, and The Library is like the weird middle kid who doesn't need me for anything," said Hernandez, who also has five actual children.
Unlike many restaurants these days, Hernandez's three eateries are fully staffed. Aside from taking home above-average earnings, the staff at each place feels like a family, a fact that's confirmed by one of the bartenders. The relaxed atmosphere – one that comes partly from not constantly striving for perfection at all times – is the result of a purposeful culture shift.
"I just wanted a place where you can have fun and move away from everything being so proper," he said. "My staff and customers have fun."
The public has responded positively, helping all three establishments endure pandemic-related restrictions that spelled the end for some high-end restaurants. The feedback and support has been gratifying for Hernandez, who visualized and executed a plan that has worked far beyond expectation. He even did much of the remodeling work himself.
Obviously, the names of the restaurants carry a humorous theme, allowing visitors to inconspicuously tell loved ones they're going to The Office or The Library or The GYM while being entirely truthful. Other such styled names are ready for the taking should Hernandez decide to expand later on.
And like any successful restaurateur, Hernandez is always assessing and looking to the future for potential opportunities. He's considering opening a street taco restaurant with a drive-thru near the heart of Parker.
The Office Co. Bar & Kitchen
230 Third St Ste 100
Castle Rock, 80104
303-660-2280
www.theofficecocr.com
The Library Co. Bar & Kitchen
3911 Ambrosia St Ste 101
Castle Rock, 80109
720-389-5986
www.bestbarcastlerock.com
The GYM Co. Tavern
18951 Mainstreet Unit C
Parker, 80134
303-805-2877
www.thegyminparker.com