Orzo Salad with Pine Nuts and Cranberries
September 1, 2015
/
/
Comments Off

on Orzo Salad with Pine Nuts and Cranberries
Pasta perfect for summer's end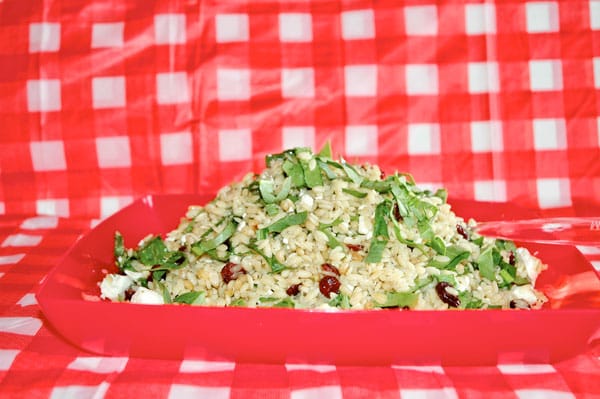 Article and photo by Lisa Crockett
I love noodles, I really, really do.  When I was a teenager, someone had the genius idea to transform the backyard barbecue-style macaroni salad (which I liked pretty well, honestly) into something that seemed somehow more sophisticated.  Continental, even. Instead of calling it "spaghetti" or "noodles," they called it "pasta" and added it to a salad.  I have been in love ever since.  In the 90s, I took great delight in using corkscrew pasta in different colors, adding bottled Italian salad dressing and veggies, and chilling the whole mixture overnight in the fridge.  Sounds pedestrian, I know, but do not knock it until you try it.  It is delicious.
At the turn of the century, I traded up to butterfly shaped pasta for all my summertime creations, and sometimes added a protein like grilled chicken breast to the mix to make my salad into a full-fledged meal.  Serving everything in one bowl cut down on dishes to be washed and allowed me to soak up more of the sunshine and spend less time chained to the kitchen sink.
I like to make pasta year-round in various forms, and it has been a long time since I tried anything new in that arena.  I have, however, tried to curb my consumption (a bit) of all things noodle-y by adding more veggies in order to keep the amount of carbs in my diet at a reasonable level.
Then, a few weeks ago, I went to a barbecue and ate the salad I'm sharing the recipe for here.  I had several servings – possibly more than my fair share, if you must know.  This pasta salad is nothing short of life changing.  The other items on the buffet at the party were all delicious, but my taste buds responded to this salad in a way I can't quite describe.  The tang from the cheese is perfectly balanced by the subtle sweetness of the dressing.  Pine nuts add a richness, topped off with the tartness of dried cranberries.
I demanded the recipe from my friend, and as soon as she sent it to me, I set about making a batch.  Large enough to feed a good-sized party, I ate the salad for lunch and dinner a few days in a row.  Usually I do not do that because my taste buds get bored, but in this case, when I finished off the last bit, my first instinct was to whip up another bowl.  It makes a great side dish for grilled meats or fish, and would pair wonderfully with cubed, cooked chicken for a complete meal.  It is also great straight from the bowl, standing at the fridge in the middle of the night (not that I would know anything about that!)
Because this recipe makes a large batch, it is the perfect thing to tote along to a Labor Day potluck or end-of-summer party.  If you are making it for a small group, you might be tempted to make a half batch, but I would not recommend it.  If you are anything like me, a single serving will simply whet your appetite for several more.

Orzo Salad with pine nuts and cranberries
Salad –
16 ounces orzo (rice shaped) pasta, cooked according to package directions
3 ounces (roughly 3 cups) baby spinach, chopped
1 1/2 cups pine nuts, toasted (see note)
1 cup feta cheese crumbles
3/4 cup dried, sweetened cranberries
Dressing –
1/4 cup red wine vinegar
1/2 cup olive oil
1 1/2 teaspoon Italian Seasoning
2 cloves of garlic, minced
1 teaspoon maple syrup
Salt and pepper to taste
While pasta is cooking, mix dressing ingredients in a medium-sized bowl until well incorporated. Drain pasta and stir in dressing while orzo is still warm.  Place orzo in the fridge.  When orzo is completely cool, add spinach, pine nuts, feta and cranberries.  Allow to chill for another hour or two before serving.  If salad is refrigerated overnight, reserve pine nuts until an hour or two before serving and then add them to keep them from getting soggy.
Note: To toast pine nuts, place them in a dry skillet over medium heat, tossing and stirring until they are lightly golden, usually about 5 minutes or less.  Pine nuts toast quickly; do not leave them unattended in a hot pan or they will burn.