Peas and radishes, a springtime story
March 1, 2017
/
/
Comments Off

on Peas and radishes, a springtime story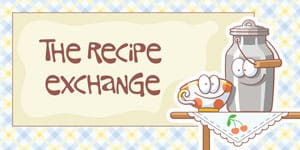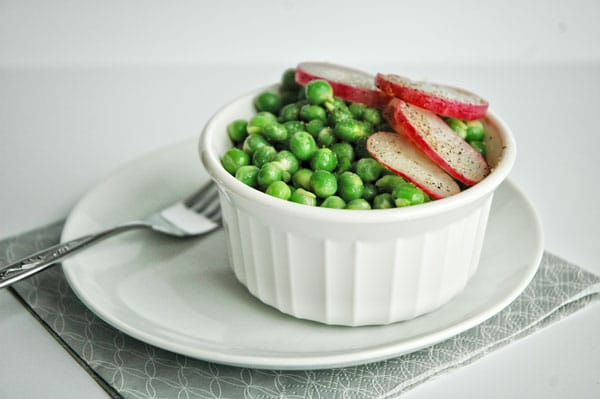 Article and photo by Lisa Crockett
Most of the time when I cook, I am either following someone else's recipe or riffing on something someone else thought of.  Every once in a while, though, I come up with something that is my own, unique creation.  Don't get me wrong, I am not inventing molecular gastronomy or anything, but on rare occasion I whip up something a little new, a little different, especially in the spring, when I feel particularly inspired to begin afresh.
Several years ago, I started the spring season with a subscription to a Grant Farms CSA share.  (For those who aren't familiar with the concept, a community supported agriculture (CSA) share means that subscribers buy a share of what a local farmer is growing.)  Once a week, I got a box full of whatever was ripe and ready on the farm.
A CSA share gives you a representative sample of what's being grown.  Rather than ordering the veggies of your choice, a share box comes loaded with a fresh batch of whatever was ready to be picked when it was time to load the boxes.  From week to week, the box may contain new and different veggies, or perhaps familiar veggies in massive quantities.  One spring a few years ago, both happened.  The farmer had a bumper crop of English peas that year.  Lots and lots and lots of peas.  (Also kale, but that's another story.)
I have never been a big fan of peas, in all honesty.  As a kid, I am pretty sure that any pea I ate came either from a can or a box in the freezer, and the texture just never really thrilled me.  Staring at the small mountain of peas from the CSA, I was vaguely tempted to simply toss them out and move on.  However, buying a CSA share was an act of eco conservation on my part – support local farmers!  Reduce my carbon footprint by buying food grown close to home!  So throwing out perfectly good food made me feel terribly guilty.  In addition, after a winter of eating the same pile of greens every day to meet my veggie quota, trying something different had a certain appeal.
So, I gamely forged ahead.  English peas do not have an edible shell, so I spent a little time popping the shells open and using my thumb to strip out the peas inside.  They smelled wonderfully sweet and vegetable-y.  I decided I would cook them like I do most of the vegetables in my kitchen: a quick sautée followed by a sprinkle of salt and pepper.  In the CSA box were also a bunch of radishes, dirt still clinging to them.  I must confess that radishes tend to confound me.  I don't love their spicy flavor, and given that I wasn't at all sure the peas would be a success, I decided to dump them all in the same pan and hope for a good result.
I rinsed and sliced the radishes and tossed them in a hot pan with the peas into a melted pool of butter.  In just about three minutes, the peas were a bright green, just the color of springtime.  The radishes turned from red to a mellow pink.  Seasoned and sitting on my plate, they looked beautiful, not at all like the anemic offering I recalled from childhood.  I took a bite, delighted and surprised by the firm texture of the peas and the soft sweetness of the radishes.
My dining companions and I ate every last morsel, and we found ourselves wanting more.  English pea season doesn't last long and offers a taste and experience not available any other time of the year, which makes this the perfect dish to celebrate the fleeting days of spring.
Springtime peas and radishes
For best results, use farm-fresh produce for this dish.
2 pounds English peas, shelled (about two cups)
15-20 small red radishes, sliced
2 tablespoons butter
Salt and Pepper to taste
Melt butter in a medium skillet over medium heat.  When butter is melted, add veggies all at once and stir continuously, cooking until peas have turned bright green, three to four minutes.  Do not overcook.  Season with salt and pepper and serve immediately.