BRE students battle their way to branch championships
April 1, 2017
/
/
Comments Off

on BRE students battle their way to branch championships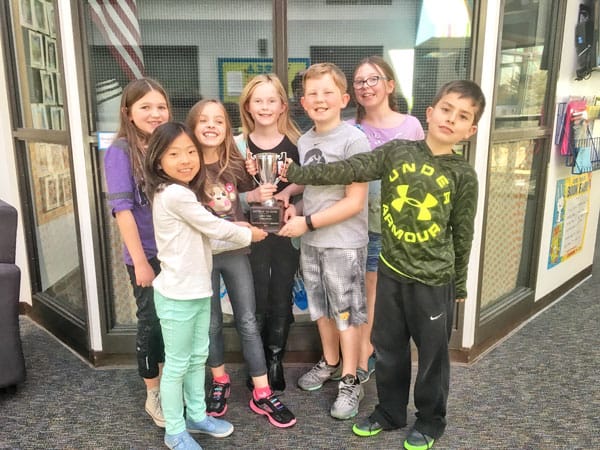 BRE students battle their way to branch championships
By Kathy Fallert; courtesy photo
The Buffalo Ridge Elementary (BRE) third and fourth grade team battled their way to victory as the Lone Tree branch champions in this year's Battle of the Books competition. The competition is similar to a game show format. The students all read 10 books then had to answer questions about what they read. The win led the team to competing in the district finals on Wednesday, March 15 at the PACE center in Parker as an undefeated team throughout seven competitions.
The standings going into the finals were:
1 Buffalo Ridge (7-0, 368 points)
2 Cougar Run (6-1, 359 points)
3 DCS Montessori (6-1, 349 points)
4 Frontier Valley (5-2, 326 points)
BRE competitor Anya reflected, "During the branch finals I was very nervous. I thought I was going to faint! But then once the battle began it was fun! And at the end I touched a trophy I had always wanted to touch. But even if we don't win the district finals I'll still be happy." Student Lila added, "It is a lot of work for Battle of the Books reading 10 books, comprehending them, and writing questions. Doing battles makes you super nervous. But in the end it is fun being champs."
Unfortunately, BRE did not beat Cougar Run for the championship at finals but they made it to a second tiebreaker.
Parent coaches were Shelly Maxwell, Shawna Hidalgo and Cara O'Brien. O'Brien said, "It was a close one! They lost on a tiebreaker question. But they had such a great season, and we all had so much fun!" Maxwell remarked, "They battled 'til the end! Great kids and a wonderful experience for them!"
To find out more about Battle of the Books, visit www.battleofthebooks.org.