Proposals for New Businesses and Homes Under Review
September 1, 2022
/
/
Comments Off

on Proposals for New Businesses and Homes Under Review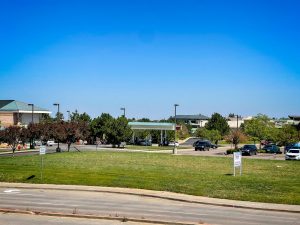 City leaders are in the final stages of reviewing applications for nearly 250 residences on the east side of I-25 and three proposals for new businesses west of the highway.
An application was approved earlier this year for a new car wash just east of the newer 7-Eleven in the open space southeast of Castle Pines Parkway and Village Square Lane. But the land has since been sold and the new owners are making minor revisions through a site improvement plan that will be up for approval before the City of Castle Pines Planning Commission in the next few months, said Sam Bishop, the city's community development director.
A proposal for a Service Street auto maintenance shop is also being reviewed by city planning staff and will be considered for approval by the planning commission sometime this fall. If given the green light, Service Street will be built on a vacant pad site directly south of Ziggi's Coffee, southeast of Castle Pines Parkway and Lagae Road.
Sushi Bowl submitted plans that needed only administrative approval to provide permission for the current renovation of the space adjacent to Ziggi's Coffee. Sushi Bowl recently applied for a sign permit with the city and is expected to open this fall.
The city continues to field exploratory pre-submittal applications from businesses looking to establish presence in the community, Bishop said.
As work continues on residential housing on Lagae Road, south of Castle Pines Parkway, final plat applications were submitted for 245 townhomes in The Canyons, an area that has seen significant construction activity over the last two years. The townhomes will be near apartments, a portion of which are in the final stages of construction in the vicinity of Canyonside Boulevard and Cross Canyon Trail.
A plat is the last step in the approval process and provides the exact locations of all structures, utilities and property boundaries.
Article and photo by Chris Michlewicz