Historic Greenland School Open House
May 1, 2012
/
/
Comments Off

on Historic Greenland School Open House
Information provided by Douglas County; photo courtesy of the Larkspur Historical Society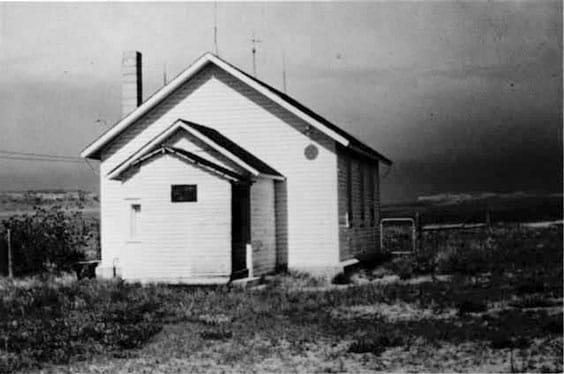 Recognizing and celebrating the month of May as Archaeology and Historic Preservation Month, Douglas County will offer a rare glimpse into the operation of one-room schools of the early 1900s with tours and an Open House of the historic Greenland School on Saturday, May 19 from 11 a.m. to 3 p.m.
Hosted by the Larkspur Historical Society, guests will learn about the school – one of the last remaining structures of the County's once lively railroad shipping hub, where crops and cattle were transported to Denver.
It is located at 1536 E. Noe Road. From I-25 exit E. Greenland Road west bound for about ¼ mile, at which point the road curves south turning into E. Noe Road. Travel southbound about 1/3 of a mile, turn left (heading east); the schoolhouse is at the end of the road on the south side.
For additional opportunities to celebrate Archaeology and Historic Preservation Month in Douglas County – including tours of the County's Virtual History museum at www.douglas.co.us/historic/museum and a self-guided Heritage Driving Tour throughout Douglas County, call 303-660-7460 or visit www.douglas.co.us/historic.
For more information on the history of Douglas County and the Douglas County Historic Preservation Board, 303-660-7460 or visit www.douglas.co.us/historic.
Facts and history about Greenland School
Information provided by Larkspur Historical Society
The town of Greenland was a small cluster of commercial and ranch buildings which acted as a central shipping point for southern Douglas County with a post office and two railroad depots.
The local farmers used the buildings as a town center and a shipping point for farm products and lumber. The school was built in 1892 by John Geiger. In 1910 the building was moved a short distance to the southwest, where it currently stands.
The school was remodeled in 1926, when a cement foundation was added. Electricity was installed in the school in October of 1936 to accommodate the Halloween program. Greenland School closed between 1951 and 1953, and the children attended school in Larkspur. It reopened for a few years, finally closing permanently in 1957.
The building has been converted into a private residence. The Greenland Ranch recently entered into a conservation easement with Douglas County's Government to prevent development on the 21,000 acres that comprise the ranch.