June 1, 2022
/
/
Comments Off

on Rory's Diner
transports customers back to the 1950s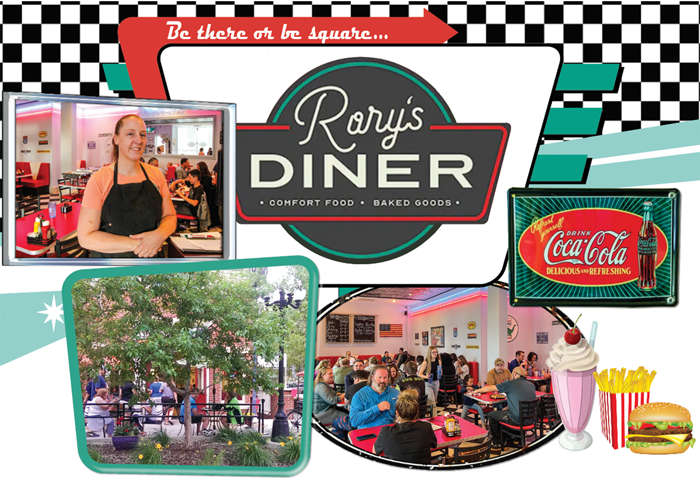 Almost every day, a new customer stumbles upon a certain Parker eatery with a quintessential 1950s diner vibe. Rory's Diner is a bit of a time capsule, transporting patrons 70 years back via vintage decor, vibrant booths and tables, made-from-scratch American favorites, and even a traditional white-and-black-checkered floor. It could easily be a venue for a boisterous sock hop.
Rory's serves as an anchor for the south spur of downtown Parker, along the tree-lined block of Pikes Peak Drive. Originally founded in the mid-2010s, the restaurant was bought in January 2019 by Brandi Fehringer, who has spent her entire career in food service.
Rory's, which was posthumously named after the original owner's nephew, is a frequent pitstop for those who actively seek out locally-owned, independent restaurants.
Rory's Diner specializes in breakfast food – biscuits and gravy and the breakfast burrito are among the most popular dishes. The diner also regularly serves homemade fruit pies like apple, cherry, blueberry, peach, rhubarb and key lime, and for a limited time, French silk and butterscotch pie.
It's comfort-food-inspired dinner menu has become a big draw, too, with staples like chicken and dumplings, pot roast, homemade mac and cheese, hearty green chili, and melt-in-your-mouth chicken pot pie being among the go-tos.
Fehringer has worked in the south metro area for much of her food service career. She spent 15 years as a waitress and manager at Perfect Landing, a restaurant at Centennial Airport, and also waited tables at Stonegate Cafe in Parker. When it came time to consider opening her own restaurant, she explored all options and types of food before settling on breakfast food and baked goods. It was in Fehringer's culinary wheelhouse and would allow her to have more time to dedicate to her personal life. She's delighted with the response from the community and enjoys seeing consistent growth at Rory's Diner.
But it can be tricky to find – Parker's notoriously strict sign code doesn't help matters – so passersby are often
pleasantly surprised when they discover Rory's for the first time.
"I had a lady come in last weekend and say, 'I have lived here for 13 years and I never knew this place existed,' and she said 'that's the best meal I've had out to eat in I don't know how long,'" Fehringer said.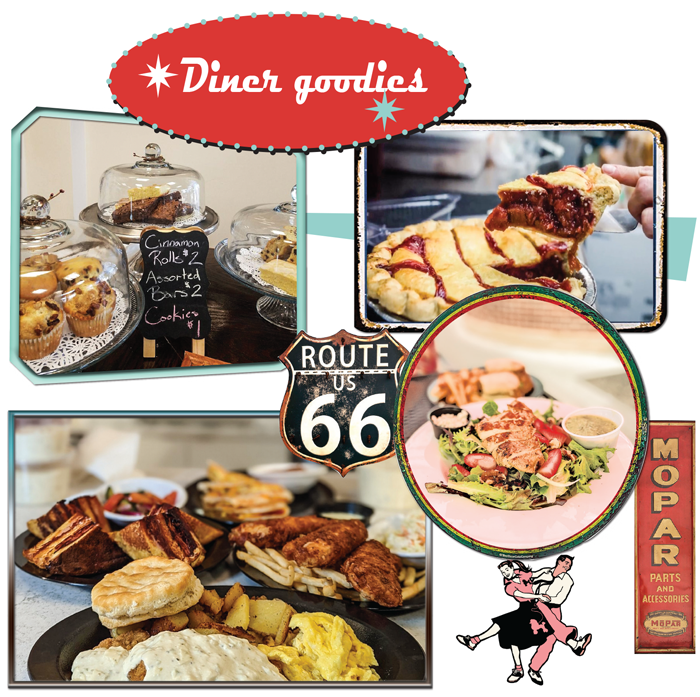 For the record, Rory's Diner is at the south end of the Victorian Peaks building, southeast of Pikes Peak Drive and Pikes Peak Avenue. Interested patrons should look for the patio with umbrellas emblazoned with the Rory's Diner logo.
The restaurant is getting ready to add to its menu (expect dishes like steak omelets with mushrooms and pepper jack cheese) and will expand to the neighboring space, where Rory's first opened. At one point, it was turned into an old-fashioned soda shop, but will soon become a new dining area.
"…the best meal I've had out to eat in I don't know how long."
Rory's Diner recently implemented a system that enables patrons to put their name on a waitlist and
see exactly where they are in the queue. This allows customers attending, say, the Parker Farmers Market, to walk around until their table is ready.
"I'm so happy I found a place in Parker."  – Brandi Fehringer
During conversation at a table in the middle of the diner on a Friday night, regulars frequently say hello to Fehringer and offer their compliments. A group of teens eating dinner on prom night sits at a nearby table. Later that night, a group of regulars was planning to come in for a catered dinner, and in a few weeks, Rory's was set to host a wedding reception for a pair of devoted customers.  It's an example of the diner making its way into the hearts of locals.