We tip our hats to Women with Hattitude
June 1, 2022
/
/
Comments Off

on We tip our hats to Women with Hattitude
Hats are a rite of spring – Easter, Kentucky Derby and Women with "Hattitude."  After a two-year hiatus, Hattitude – a stand-out favorite of the Denver performing arts scene – returned to the stunning Seawell Ballroom in downtown Denver in April.  This year marked the 15th anniversary of the annual luncheon benefiting Women's Voices Fund (WVF) at the Denver Center for the Performing Arts (DCPA).
Nearly 500 guests gathered for the annual fundraising and networking event, donning ornate and embellished hats and fascinators. A trademark of the event, those wearing hats were vying for a coveted spot on the runway for the post-lunch "Parade of Hats" fashion show featuring the most creative, whimsical and stunning creations.
"Hattitude is one of the most anticipated events of the year," commented Village at Castle Pines resident and longtime attendee of the event, Louise Bowen.  "It's an opportunity to see old friends and meet new ones all the while getting to dress in your finest and I truly look forward to attending it every year," she added. "The fact that Hattitude supports the Women's Voices Fund just adds to the value of this wonderful event," Bowen said.
Established in 2005, the WVF was created to advance the work of female playwrights and directors in Colorado and beyond.  Since the fund's inception, the DCPA Theatre Company has produced 38 plays by women (including 16 world premieres), commissioned 24 female playwrights, and hired 38 female directors. Because of the support of events like Women with Hattitude, WVF has been lifted to new heights.
"What a wonderful day filled with so many beautiful hats and beautiful people," stated DCPA President and CEO Janice Sinden in a Facebook post following the event. "See you all next year to continue our support of the Women's Voices Fund."
The DCPA offers roughly 50 productions a year for audiences.  They are one of the largest nonprofit theatre organizations in the nation, presenting Broadway tours and producing musicals, cabaret, and innovative immersive theatre experiences.
Women with Hattitude Event Chair Jennifer Dechtman shared that this is one of her favorite events to plan. "There are so many people to thank for bringing this event back in 2022 – DCPA leadership, the host committee, sponsors, patrons and donors to the Women's Voices Fund … thank you!" said Dechtman.
Moxxy Women was the Crown sponsor of the event and hosted a private reception prior to the luncheon and an after-party at the Four Seasons Hotel.  Owner of Moxxy Women and City of Castle Pines resident, Marco Fields, attended the event with her daughter, Jada.
"As a young adult, I see Hattitude as an amazing fundraising event that is full of strong and independent women who own themselves," shared Jada.  "I took from this event two things – supporting women in theatre is one of the best things you can do, and I need to learn hat-making!"
As the event concluded, there were many glowing smiles on the faces of beautiful women going down the escalator in their colorful hats.
"It has been a joy to be on the host committee of Women With Hattitude from the beginning," said Village at Castle Pines resident Nancy Koontz. "Ladies of Castle Pines, consider getting involved by attending next year," invited Koontz.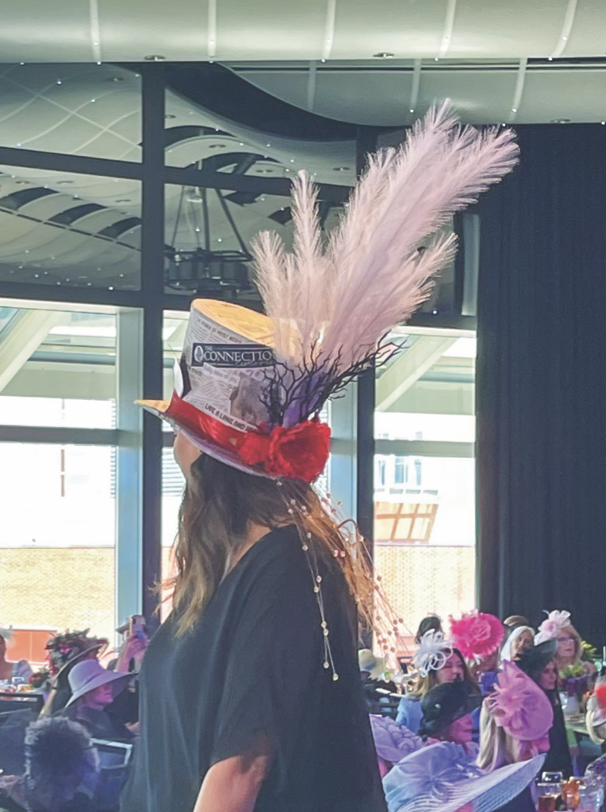 By Nancy Koontz; photos by Terri Wiebold