Run Wild winner races to plant trees
October 1, 2017
/
/
Comments Off

on Run Wild winner races to plant trees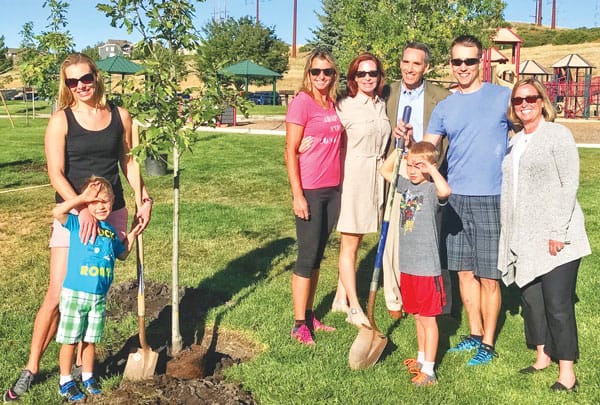 The Castle Pines Metropolitan District, along with the City of Castle Pines, hosted an informal tree planting ceremony at Coyote Ridge Park in late September to plant trees donated by Mark Edson, the winner of the Run Wild race. Members of the Edson family attended to help dig dirt and see their donation come to life.
Information and photo submitted by Sara O'Keefe; photo by Lynn Zahorik
Mark Edson, MD, Castle Pines resident and winner of this year's nine-mile Run Wild race, donated his $500 proceeds to the Castle Pines North Metropolitan District (CPNMD) to plant trees in Coyote Ridge Park.
The race was part of the three-day Party in the Pines event in late August (see pages 14-15) that was hosted by the Castle Pines Chamber of Commerce, the City of Castle Pines and The Castle Pines Connection. It was sponsored in part by CPNMD.
When asked about his decision to donate his prize money, Dr. Edson said with a chuckle, "It was somewhat spontaneous because I wasn't expecting to win." He continued, "But as my wife would say, I have a pathological obsession with trees."
A Colorado native, Dr. Edson moved from Houston back to the state to settle in to Castle Pines about a year ago with his wife, Janel, and their two boys. In Houston, he often planted trees in vacant spaces because he believes in the community beautification they offer.
Part of the reason the Edson family chose Castle Pines is for the close proximity to and abundance of outdoor amenities. Dr. Edson and his family live in Winter Berry, near Coyote Ridge Park. His boys, ages six and four, like to play on the equipment and on the ball field, and the entire family enjoys the festivals held there throughout the year. During their frequent visits to the park, Dr. Edson and his wife have noted Coyote Ridge visitors might enjoy more shade cover in the warm summer months.
The Edsons also chose Castle Pines for the schools and to be close to Mark's job at Sky Ridge Medical Center, where he's a radiation oncologist for Kaiser Permanente. Donating his prize money is in line with his belief in Kaiser's Thrive Together principles of living well, staying active and giving back to one's community.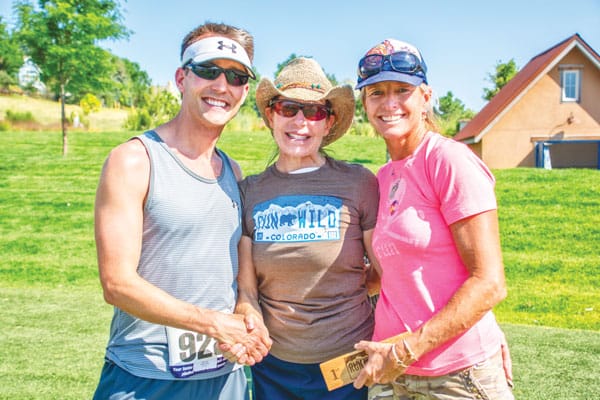 Run Wild organizers Mayor Pro Tem Tera Radloff (center) and Wendy Ingraham (right) pose with 9-mile winner Dr. Mark Edson, who donated his $500 race winnings to help pay for new trees at Coyote Ridge Park.
Using the proceeds donated by Dr. Edson, CPNMD purchased two Northern Red Oaks and three Chinkapin Oaks and used its own staffing to plant them along the ball field in the upper portion of the park, where they will provide shade as they mature.
"This is a great opportunity for our community to come together and enhance an already great public place," said CPNMD District Manager Jim Nikkel. "We're grateful to both Dr. Edson and Mayor Pro Tem Tera Radloff for their consideration and generosity."
"The generosity of Castle Pines residents like Dr. Edson amazes me," stated Radloff, one of the Run Wild event organizers. "We're a small community with a big heart and our residents, and my neighbors are one of the many reasons I chose to live in and serve this great city."