Take pride in your community
September 1, 2017
/
/
Comments Off

on Take pride in your community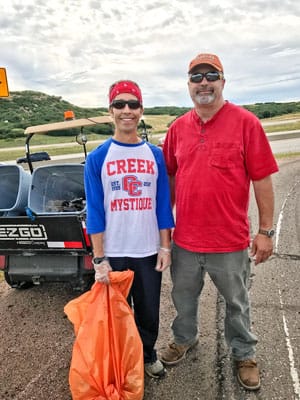 Neighbors Josh Gonzales (left) and George Botsonis (right) met in the Surrey Ridge park to get started on the neighborhood cleanup. To participate in Surrey Ridge's next event, email Josh at joshuamiguel@yahoo.com. Treats are always offered for those who volunteer.

By Patte Smith; photo courtesy of Josh Gonzales
A few times every year, several residents in Surrey Ridge take it upon themselves to clean up the neighborhood, including the nearby frontage roads that lead into the area. Josh Gonzales, a long-time resident of Surrey Ridge, organizes the cleanup effort and wants to encourage all communities to be involved in keeping neighborhoods clean.
"Coming together to keep areas clean encourages fellowship and a sense of pride in our beautiful surroundings," explained Gonzales. "It is a great way to get outside and meet your neighbors."
Kids are taught at an early age not to litter, so it makes sense to encourage children to take part in taking care of their neighborhood too. Leading by example, parents and residents can help the kids have a sense of pride and accomplishment. Parents can make a game with the kids to see who can pick up the most litter or recyclables.
Gonzales' son, Liam, helped out this year picking up litter on the roads. "Picking up trash in our neighborhood was good and helps the environment," stated Liam. "I spent time with friends and my family – I hope more people participate."
Volunteers are needed in all neighborhoods, so jump on the bandwagon to organize or join a cleanup crew in your neighborhood and make every day Earth Day.
If your neighborhood does a similar clean up, email editor@castlepinesconnection.com and let us know!