June 1, 2020
/
/
Comments Off

on Sewn together with love
By Lynn Zahorik; courtesy photos

One of the most coveted graduation gifts is a T-shirt quilt that showcases all of the many activities and community events within a child's school career. In 2017, a group of moms with soon-to-be graduates who had been working on picture collages for Rock Canyon High School's senior hall realized they had a shared interest in making a T-shirt quilt for their child. They each had an individual level of creativity that they wanted to channel into something lasting for their student.
With a can-do spirit, Claire Bochner generously opened up her home for weekly sewing sessions, and Kathleen Steffe offered to share the finely-tuned sewing skills she learned from her mother. Alas, the quilt club was born. Made with memories, connections and lots of love, the group has made magnificent T-shirt quilts in an array of colors, fabrics and patterns. Each quilt entails more than a hundred hours of tireless work.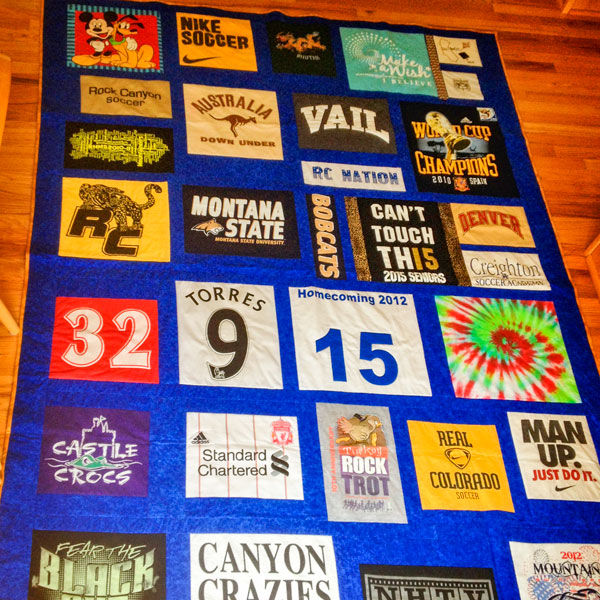 "What makes T-shirt quilts so unique is the involvement between the parent and the child," said Steffe. "Most moms that have completed their quilts will tell you what a cathartic experience it is." Bochner, who made a quilt for each of her three boys, said, "I was able to relive a lot of my kids' memories and moments as I sewed their quilts. When I gave the quilt to them to take to school, its was like giving them a piece of home. I hope that when they wrap themselves in their quilts they feel a big hug from Mom." Amazed by their mother's handiwork, Bochner's sons treasure their personalized quilts and proudly show them off to their friends.
Women who had little sewing experience have become confident seamstresses and many are using their talents in other ways. Most recently, they have been devoted to sewing medical masks and caps to donate to hospitals and first responders.
Cherished friendships have been made and many life experiences shared through the art of T-shirt quilting. "Three years, 25 plus quilts, hundreds of face masks and numerous other crafting projects later, we are way beyond a sewing group," said Steffe.