June 1, 2020
/
/
Comments Off

on A reversal of fortune
By Bryan Goodland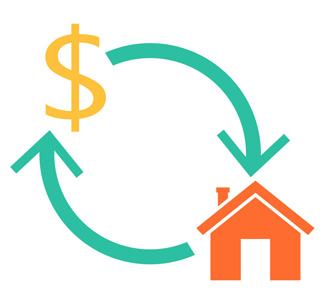 When times are economically tough, people look for creative ways to make ends meet. An option known as a reverse mortgage is a financial strategy that is often considered by older homeowners on a fixed monthly income.
A reverse mortgage is a loan that a homeowner borrows against the value of their home. The money can be paid to the homeowner via a lump sum, a monthly payment or even as a line of credit. The difference between a reverse mortgage and a standard mortgage is that the homeowner doesn't make monthly payments on the loan. Instead the entire loan payment is due upon certain conditions, namely, the death of the homeowner, the homeowner moving out of the home, or the sale of the home.
Some of the reasons people consider reverse mortgages include if they are facing expensive repairs, prohibitively expensive health issues or they need a sum of money outside of what their income can generate alone. Another reason these are attractive options to borrowers is that the loans aren't held to the same financial scrutiny as other types of loans. Even borrowers with limited credit are able to secure the loan as long as they can demonstrate the ability to pay the mortgage insurance and property taxes.
There are three types of reverse mortgage options: Single purpose reverse mortgage (SPRM), home equity conversion mortgage and proprietary reverse mortgage. As the name would suggest, the SPRM can only be used for what the lender specifies, such as home repairs or property taxes. It is restrictive in purpose, but like other reverse mortgage payments, doesn't have to be made until the property is sold, the owner moves away or the homeowner passes away.
For those looking for a federally backed reverse mortgage, the FHA-insured home equity conversion mortgage (HECM) is an option. These mortgages are backed by the U.S. Department of Housing and Urban Development. HECMs are popular because they don't carry income restrictions and the loan can be used for anything – unlike the SPRM. Federally backed reverse mortgages are limited to homes valued less than $765,500.
According to 2018 statistics by CoreLogic, a data gathering and analytics company, HECM borrowers had a median age of 73 and a median income of $26,000.
If your home value exceeds the $765,500 then the other option is the proprietary reverse mortgage, which can allow the homeowner to borrow more. This option may appear attractive because of no upfront fees or mortgage insurance. However, the interest rate can vary broadly, so it's important to check options carefully. In addition, conditions for these mortgage vehicles change, so it's also important to keep up with new terms for these loans.
Because of the exponential growth of housing sales prices, reverse mortgages have continued to be an option as equity in homes increase. In the U.S. housing market for 2018, the average existing home price was $261,600, which was a year over year increase since 2011. Fannie Mae released a report predicting that for 2020, the median home price in the U.S. is expected to be $275,000. New home median pricing will be at $326,000. In April, according to RECOLORADO®, the median home value in Castle Pines was $682,500, which puts it well above the median value for the rest of the country.
According to a March 2020 report by the U.S. Department of Housing and Urban Development, there were 243 reverse mortgages taken in the state of Colorado. Douglas County recorded 10 reverse mortgages; Castle Pines accounted for 2. For the state of Colorado, Jefferson County had the most with 31, followed by Arapahoe and Denver counties which had 24 each.
Whether personally looking for a creative way to tap into the equity of your home or helping parents or grandparents make decisions, a reverse mortgage is something worth learning more about.